Take the train to Southend and discover some of the best beaches in under an hour from London. Southend is one of the warmest and driest places in the UK and its sweeping coastline is home to a variety of beautiful beaches. All eight of Southend's beaches have earned 'Seaside Awards' with five sporting prestigious Blue Flags too. So whether you're after a bit of bucket and spade fun in the sand, hunting for crabs or just dipping your feet in the water you can be at Southend's beaches in less than one hour from London by train.
Make the most of some of our special offers on off-peak train travel, like Kids for £2 on weekends and school holidays, GroupSave if there are 3 or more of you.
Why not get your hands on a c2c Smartcard and download our app for the quickest way to buy your tickets and beat ticket office queues?
Travel from London to Southend return for £12.70 with our online advance tickets
With water sports, beach activities, top cafes and more, you won't be able to believe you're in Southend. There's a reason Southend is the number 1 staycation spot for this summer.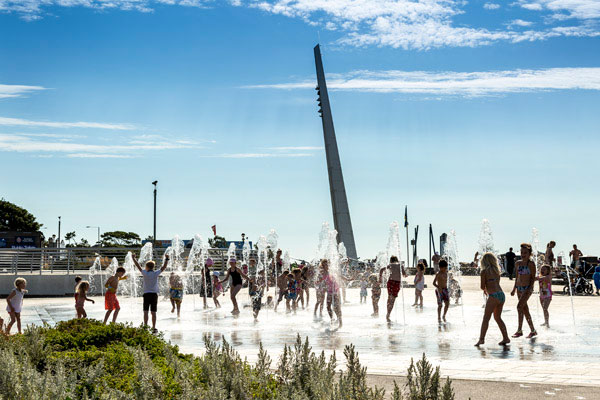 Nearest Station: Southend Central Station
At the heart of the Southend beach action is City Beach, slap bang next to Adventure Island and Sea Life Aquarium. A mix of sand and shingle beach, it's great for families who want to be close to all the arcades, cafes, restaurants and bustle nearby, plus kids love playing in the fountains when the tide is out.
Three Shells Beach Lagoon, Southend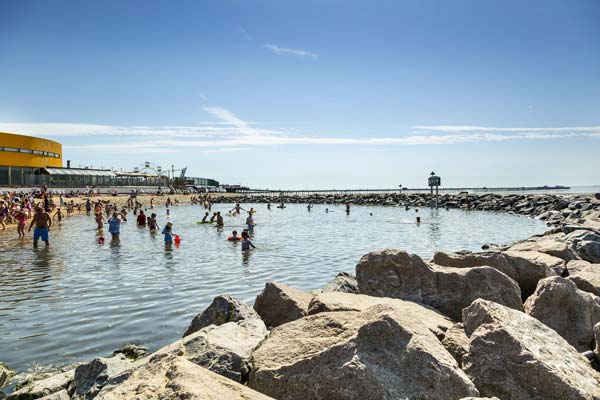 Nearest Station: Southend Central Station
On the other side of the famous Southend Pier you'll find Three Shells Beach and its rock pool lagoon. As the Southend tide can go quite far out, the lagoon means you can swim on the beach safely all day long. Plus there are loos, cafes and all the seaside fun of Adventure Island next to it, making it a popular spot for a seaside splash. If you get hungry, take advantage of the Three Shells Beach Café for a nice selection of food including breakfast, salads, light bites, doughnuts, ice cream and so much more.
Thorpe Bay beach
Nearest station: Thorpe Bay Station
Home to Blue Therapy Active, why not try your hand at kayaking, paddle-boarding and hike rafting? Or take a stroll along the bay and enjoy the traditional pastel coloured beach huts. Dig into a picnic on decking that leads straight onto the beach or venture into the numerous quaint cafes and restaurants nearby.
Chalkwell beach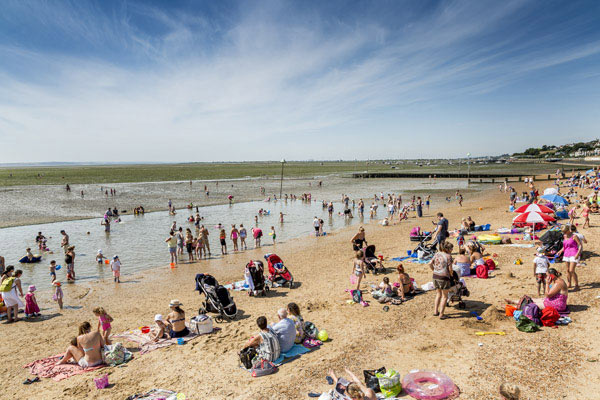 Nearest Station: Chalkwell Station
Show off your flair for architecture with a real bucket and spade knees up at Chalkwell's sandy beach. Step off the train straight into this family favourite and watch the kids become absorbed in crabbing and shell gathering – while enjoying some well-earned sun bathing for the grown-ups.
Shoeburyness beaches
If you fancy dabbling in (or just watching) the exhilarating art of kitesurfing, Shoebury East Beach is the place for you. Round the corner is Shoebury common beach, with beach huts and more watersports. Both beaches boast Blue Flags and can make a more peaceful alternative to lively Southend.
Westcliff beach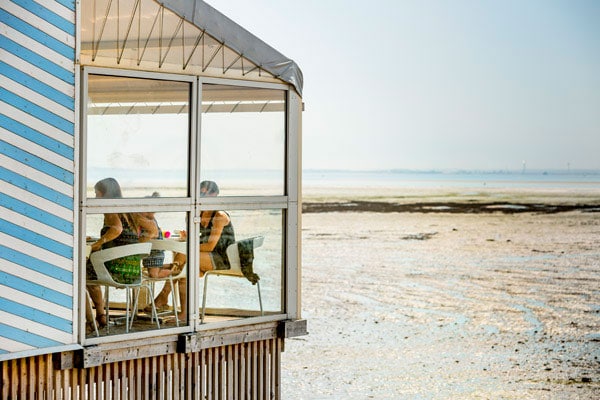 Nearest station: Westcliff Station
This beach is famous for the classic seaside staple: ice-cream. Rossi's Parlour is the best gelateria for miles around, so prepare to pick your favourite flavour. Enjoy spectacular cliff-top views over of the Thames Estuary and discover picnic spots in the gardens set within the cliffs. Westcliff Beach offers deckchair hire, so just sit back and relax with the fresh sea air.
Bell Wharf beach, Leigh-on-Sea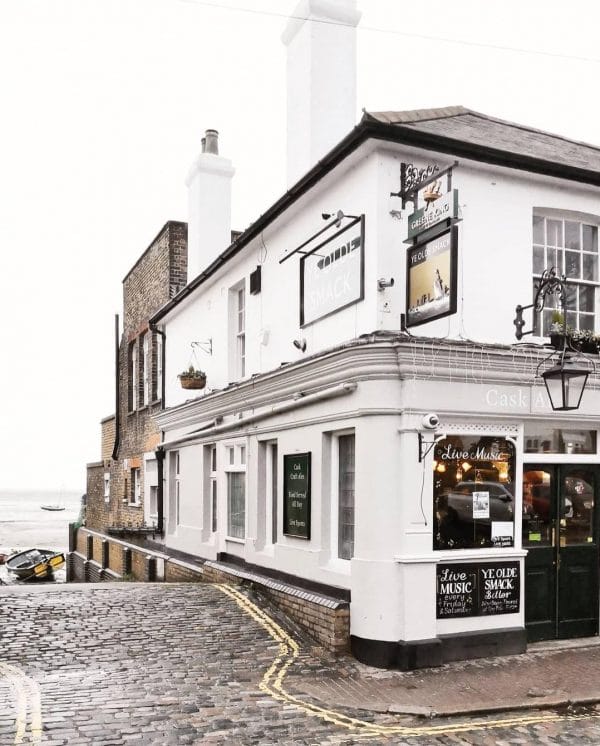 Nearest Station: Leigh-on-Sea Station
A 10 minute walk from Leigh-on-Sea station, Bell Wharf Beach boasts bustling cockle sheds in the summer months and cosy character pubs for colder weather. Not so much of a swimming beach, it's best enjoyed with a refreshing drink while watching working fishing boats bring in their catch. If you're not into cockles, try some freshly battered fish at The Mayflower. It's the perfect relaxing day out.
Canvey Island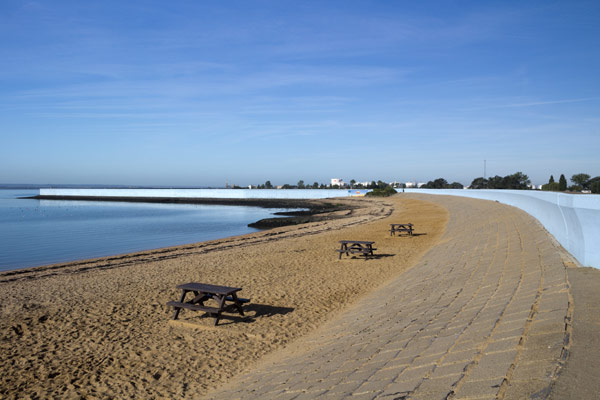 Nearest Station: Benfleet Station
Just a short taxi or bus ride from Benfleet station lies the beautiful and unique Canvey Island. Bring your crabbing nets to rummage around numerous rock pools where children have been hunting down crab shells since the 1930s. Why not add PLUSBUS when booking your rail ticket to get cheap travel in the surrounding area.
Useful info about Southend's beaches
Are dogs allowed on Southend's beaches?
Dogs are permitted on Southend's beaches between 1st October-30th April only, although guide dogs are allowed at any time.
What bike facilities are there at Southend's beaches?
Look out for cycle facilities available at many of the beaches, and e-bike hire at City Beach. Have a look at our cycling Southend guide too.
Does Southend have any Blue Flag beaches?
Thorpe Bay, Shoebury Common, Shoebury East, Three Shells and Westcliff Beaches have all been awarded Blue Flags for their cleanliness and safety by Quality Coast.
Where can I find tide times for Southend's Beaches?
We recommend checking the tide times for Southend's beaches when planning your journey so that whether you're crabbing, kitesurfing or hankering for a breathtaking view, your day will be perfectly suited to you. You can see tide times here.
Does Southend have a sandy beach?
If you're keen to feel the sand between your toes, you're in luck! All of Southend's beaches are at least part sand.
Which Southend station is near the beach?
Southend Central is the closest station to City Beach – just a 13 minute walk. The other beaches mentioned here are all within a short walk of their respective stations.
How can I get to Southend's beaches?
Take the train from London Fenchurch Street to Southend (you can also hop on at Limehouse, West Ham or Barking) then alight at Southend Central for the beaches around the pier. Or go a couple of stops up the line to Thorpe Bay (for the beach huts) and Shoeburyness if you're looking for some quieter spots. Journey time from London is between 45 mins – 1hr. There are 4 trains per hour on weekdays and train tickets bought online three days in advance from London Fenchurch Street to Southend Central are £12.70 return.