Southend is a beautiful place to cycle around. It's mostly flat, so luckily even the longest ride is quite gentle on your legs. From Chalkwell up to Shoebury beach there's a dedicated cycle path of around 6 miles that hugs the coastline so you can soak up all the sweeping estuary views as you glide along. You can get from central London to Southend for £12.70 return when you buy your ticket online in advance. Check out our other fare offers to see how much you can save. You'll just need to jump on a c2c train leaving Fenchurch Street towards Shoebury station, and alight at the station where you plan to start your cycling adventure. Check out our app and Smartcard for the quickest way to buy your tickets in advance and avoid ticket office queues.
Sun, sea and fresh air; cycling in Southend is a recipe for the perfect day out.
Popular bike routes:
Easy
It's about a gentle 15 minute bike ride from Southend to Shoeburyness. On the way, stop at Ocean Beach, a cute beach-side cafe and restaurant, or take a classy rest to drink cocktails at the Roslin Beach Hotel, in Thorpe Bay en-route. Start your bike journey at Southend Station, or a little further west in Chalkwell.
More challenging
Nearby Hadleigh Park was home to the Olympic Mountain Biking course in 2012. There are plenty of biking routes to challenge yourself with – all set in 500 acres of country park overlooking the Thames Estuary. The nearest station is Leigh-on-Sea or Benfleet, both of which are about 45 minutes on foot.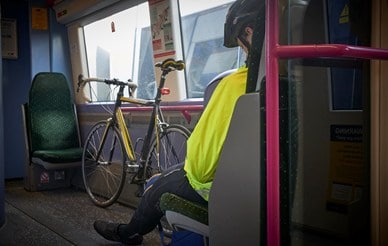 Taking your bike on the train
You can take your own bike on any c2c train leaving Fenchurch Street Station before 07:14 or after 09:30, and before 16:30 or after 18:35 Monday – Friday or anytime at weekends. Click here to see c2c's bike policy.
We try to accommodate all cycles, but if you're travelling with more than three in a group, please call ahead on 03457 444 422 (option 6) to make sure we can best accommodate you and the rest of your travellers. Please, no tandems.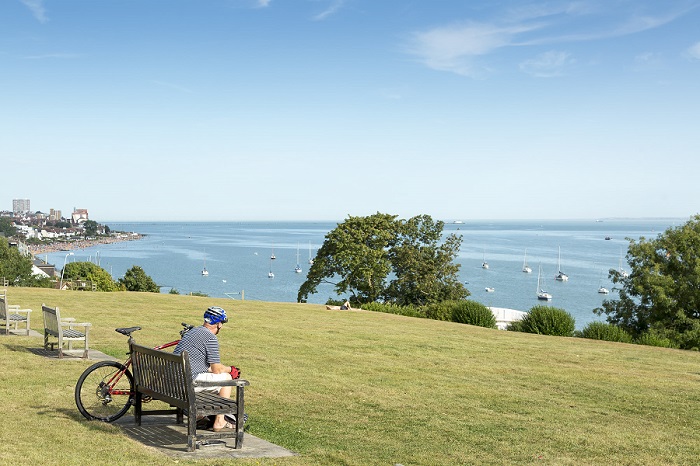 Top tips, resources and routes
Forward Motion's cycling section has lots of useful information for cyclists in Southend
Lost your way? Southend has invested in state of the art kiosks located around the city, offering you cycle routes and up to date travel information including train times from wherever you want in the city. So you never have to worry about missing your train home!
We always recommend you wear a helmet
There is plenty of bike parking available around Southend. Make sure you use a secure lock!