Get started with a Smartcard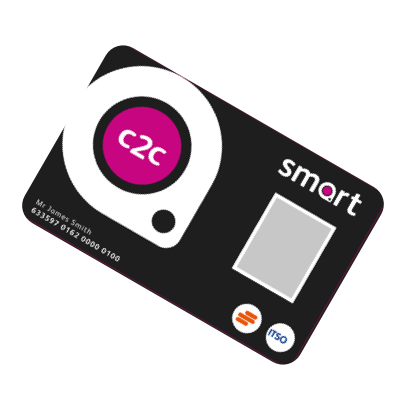 Order online
It only takes a moment to order a new Smartcard online. If you don't have one, you can set up a c2c account today.
Order Smartcard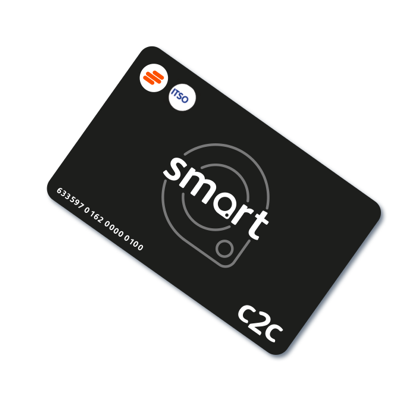 Register a Smartcard
Pick up a free c2c Smartcard from your local station. Make sure to register your card to get all your travel perks.
Register Smartcard
How does it work?
Buy online with the c2c Train Travel app or at a station ticket machine. You can store up to five tickets at one time on your card.
Hold your Smartcard on the gateline or free-standing reader to activate your ticket.
Touch-out by holding your Smartcard on the gateline or free-standing reader.
c2c Smartcard help
What tickets can I get on a c2c Smartcard?

Daily tickets – including with Railcards – between two c2c stations
Daily tickets with Travelcards to London underground stations outside the c2c route
Off-peak and super off-peak returns, including those bought in advance
Seasons (Weekly, Monthly, Odd Period and Yearly)
PlusBus tickets (Benfleet Season tickets only)
Child Tickets on Child Smartcard
Kids for £2

How many tickets can I store on my c2c Smartcard?

The c2c Smartcard can hold up to five active tickets at a time. A Flexi Season will count as one.

Can I use my Smartcard on the underground?

Yes, if you have a ticket with a London zones Travelcard loaded on your Smartcard, then you can tap in and out at TfL's Oyster card readers and ticket gates, at Overground stations, and on London buses. Want to know how to add a Travelcard to your ticket when buying tickets? Find out here:  Adding a Travelcard

Switching monthly or longer paper season tickets onto Smart

You can switch from paper season tickets to Smart at any one of our ticket offices. You can also get a zones 1-6 Travelcard on a c2c Smartcard.

Managing your Smartcard in the c2c Train Travel app

You can buy and load tickets directly to your Smartcard in the c2c Train Travel app. Plus you can also view your ticket history, and buy and manage Flexi Season easily.

Can I use my railcard discount when I buy tickets to load onto the c2c Smartcard?

Yes, you can use your Railcard discount to buy tickets and load them onto your Smartcard. Railcard discounts apply as per normal. Find the best Railcard option for you here.

Can I use the ticket machines to buy tickets onto a Smartcard?

Yes, you can use the ticket machines to buy your train tickets easily onto a Smartcard, including daily tickets with railcards, any time of day.

Can I pick up a Smartcard at my station?

Yes you can. Our ticket office clerks are able to give you a free c2c Smartcard so you can get started straight away. Make sure to come back and register your card online to get all the travel benefits like automatic delay repay, and loyalty points. It all adds up to more money off future train tickets.