Keeping you safe and secure
Penalty fares on c2c
Charges for travelling without a valid ticket are £100 plus the price of the full single fare applicable to your intended journey served by that train. If paid before the end of the period of 21 days, beginning with the day following the day on which the Penalty Fare is issued, then this is reduced to £50, plus the price of the full single fare applicable.
This is a national policy across multiple railway operators. You can find out more on the Department for Transport website.
While you're travelling with c2c, we will work with our partners to make your journey as safe as possible.
Combating fare evasion
Anyone who does not have a valid fare for their entire journey is liable for a Penalty Fare, and may also be reported for prosecution.
Unlike most train operators, we have ticket gates at all our stations. Our busy Revenue Protection team work around the clock – both in uniform and undercover. We also run regular specialist operations where we stop everyone and scrutinise their ticket – we're sorry if this briefly delays your journey, but we know you will appreciate this is a highly effective way to prevent fare dodging.
Our people and our partners
Everyone who works for c2c receives security training when they first join the company, and this is refreshed at regular intervals. This training includes basic security procedures, how to deal with incidents, and how to identify suspicious or vulnerable persons. Some of our colleagues also receive specialised training provided by the British Transport Police.
We work closely with the British Transport Police who provide a full range of policing services to the railway from a number of Police Stations across the c2c network. You can find out more about the British Transport Police as well as advice on keeping yourself and your belongings safe while travelling here.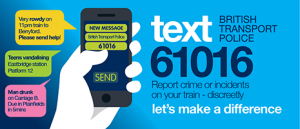 Thieves use a variety of tactics and distractions to relieve you of your personal items. The British Transport Police 'Be Aware' campaign is designed to help rail passengers keep their valuables safe from pickpockets, gadget-grabbers and luggage thieves.

The British Transport Police Project Servator is used to deny a wide range of criminal activity on the rail network, including terrorism. A link to the project is here.
In addition, we use a specialist agency to provide security staff. They mount high-visibility patrols at stations to deter and detect crime and anti-social behaviour, as well as providing support to our team at c2c and helping people who need assistance or may be vulnerable.
Our stations and trains
Our stations are accredited under the Department for Transport's Secure Stations Scheme and we are working to upgrade and enhance the CCTV systems in and around our stations and car parks. Our fleet of trains is fitted with on-board CCTV systems and may be patrolled by our HALO security team which is accredited by the British Transport Police under the Railway Security Accreditation Scheme. Some c2c staff may additionally use body-worn video (BWV) cameras for security – these are covered under our privacy policy. You may also see uniformed British Transport Police officers patrolling the trains.
You – our customers
You can help us and play a part in helping to keep the railway safe and crime-free:
Please look after your possessions whilst at the station or on the train
Please do not leave bags or other items unattended
If you see something that doesn't look right on the station or train, please tell a member of staff or text the British Transport Police on 61016.
Remember to observe social distancing guidelines when reporting something to a member of railway staff
In an emergency dial 999