How much does Adventure Island cost?
There is no admission charge into the park; you only pay if you play. Rather than making people pay per ride, Adventure Island have a simple wristband system. Wristbands are £28 in-park and £24 online for a day pass. Find the current prices here. You can also buy an Adventure Island annual pass for £56.
Adventure Island wristbands
There is one wristband available for all. Your height will determine what rides you are permitted to ride.
For children under 1m, there are gentle rides available.
If your height is between 1m and 1.2m there are plenty of rides to choose from, they're exciting and fun, but not too scary. The ride together policy means an adult must accompany children under 1.2m, but don't worry, the adults are free.
1.2m and over? You thrill-seekers are allowed to ride on some of the more extreme roller coasters, including the iconic Rage. Only Screature, and the pendulum-style Axis is restricted to those over 1.3m – please note that riders must be over 10 years old in order to use these rides.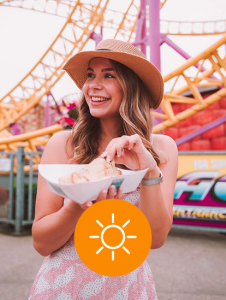 How to get to Adventure Island by train
Take c2c for the cheapest train tickets from London to Southend. Buy online 3 or more days in advance to take advantage of our very best deal. Save even more if you're travelling with children on weekends and during school holidays with our Kids travel for £2 deal.
What's more, there is no restriction on which train you take in the day so long as it's in the off-peak (which means it leaves London after 9:30 am).
Where is Adventure Island?
Adventure Island is located right on the Southend seafront, by the iconic Southend pier on the Western Esplanade. It's difficult to miss as you approach the beach from the town centre – look out for brightly coloured rides!
Adventure Island rides
There's something for everyone at Adventure Island and enough to do come rain or shine, even for those tricky pre-teens, whether it's the classic helter-skelter slides or the latest roller coaster. There are also rides inside and a 6 storey play area at Adventure Inside. You can see the available rides here.
Adventure Island is also just a short walk away from Sealife Adventure. To find out more information about visiting with anyone with a disability; you can view Adventure Island's Accessibility Policy. Currently there are over 36 rides as well as other attractions such as arcades, adventure golf and soft play spaces.
What train station is closest to Southend Adventure Island?
The closest train station is Southend Central on the c2c line, which is about a 10 minute walk from Adventure Island. Nice and easy!
Adventure Island FAQs
Is Adventure Island open?
Adventure Island and Adventure Inside –  an indoor entertainment centre with rides, soft play and arcades are only open on weekends in June before opening every day throughout July and August. During most of the winter as well as some autumn and spring weekdays, Adventure Island is closed. You can view the full calendar and see when Adventure Island is open here.
What are Adventure Island's opening times?
Adventure Island has variable opening and closing times dependent on the time of year. During low season they're open from 11am to between 4pm and 8pm, and during high season they're open from 11am to between 8pm and 10:pm. Click here to visit the Adventure Island website and get more details.
Is Adventure Island open when it rains?
Adventure Island will generally stay open in the rain, although some outdoor rides may need to be closed if it's heavy. There are lots of sheltered rides and arcades to check out if this does happen during your visit!
How much is parking at Adventure Island?
There's no official Adventure Island car park, but you may be able to find space in other Southend car parks. We highly recommend taking the train so you don't have to worry about parking!
When does Adventure Island close for the season?
Adventure Island is usually closed from mid-November, although Sealife Adventure is open everyday throughout the year, excluding Christmas and Boxing day.