Canvey Island
Southend's answer to Coney Island? Maybe not quite, but you will find all the fun of the fair close by in neighbouring Southend-on-Sea and its seaside theme park Adventure Island.
That's not to say this little island in the Thames Estuary doesn't have its own magic to offer. There's a sort of romance to the jumble of mudflats, nature reserves, creeks, Dutch houses, 30s modernism, and petrochemical plants. And it has the faded charm of somewhere that was once the fastest growing seaside resort in Britain in the early 20th century.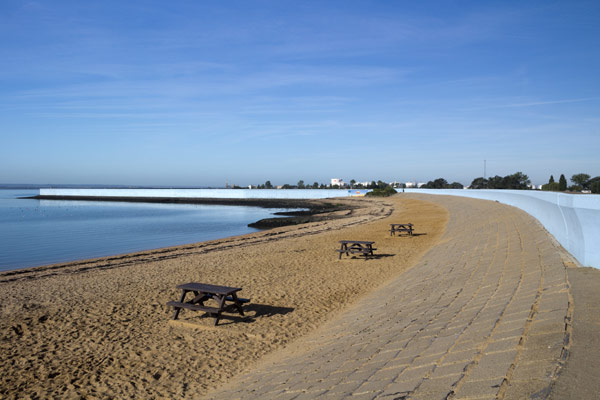 The beach by the seawall
How to get to Canvey Island with c2c
Take the train from London Fenchurch Street to Benfleet (you can also hop on at Barking or West Ham) then take the 22 or 27 bus from Benfleet Station over to Canvey. Journey time from London is between 45 mins – 1hr. There are 4 trains per hour on weekdays and train tickets bought online three days in advance from London Fenchurch Street to Benfleet are £10.95 return. Kids also travel for £2 on the weekends and during school holidays. You can also add a PLUSBUS ticket online for £3.30 to take you all the way to Canvey Island and cover all your bus travel in the area for the day.
Whether you're travelling in a group or have the kids with you explore our great value ticket offers to make sure to get the best deal for you.
History and culture of Canvey Island
Historically people have inhabited Canvey Island for a long old time. Recent excavations on the Island have unearthed a Roman road, Neolithic axes and even a bronze age bracelet. Its history and bleak marshland beauty has spawned folktales and ghost stories about wandering nuns, vanishing carriages and lost Vikings. Atmospheric it is. Dickens even used The Lobster Smack pub (which you can still go to today) in Great Expectations.
In the 70s Canvey became a bit of a hotbed for pub rockers such as Graham Parker, Elvis Costello, Eddie and the Hot Rods, Nick Lowe, and, of course, Dr. Feelgood. Today the island remains an estuary of inspiration for artists such as British Sea Power – check out the tune 'Canvey Island' on their 2008 album Do You Like Rock Music?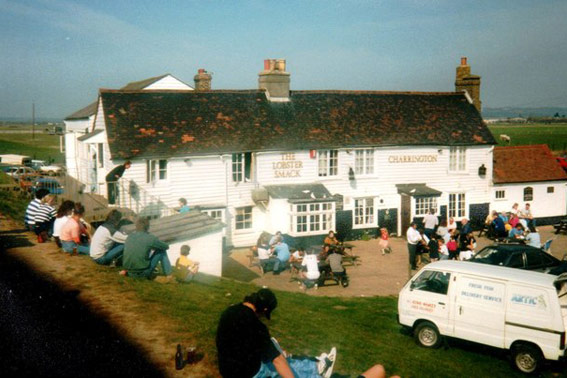 The Lobster Smack in 1988
Canvey Island's very own Dr Feelgood
Where to eat in Canvey Island?
As well as the Lobster Smack pub, which is well worth a visit, go to a modernist gem Labworth Cafe, which was built in 1932 – It's THE beach bistro to hang out in when you're in town. Or if you fancy taking a stroll down to the other end of the Eastern Esplanade, you should stop by at Windjammer. The perfect pub stop with a friendly local atmosphere.
What to see in Canvey Island?
Cycle round the island taking in the Dutch cottages, marshes, country park, and the long, pastel-blue seawall. In the summer sunbathe on the beach, ride the fun park, or wander round the Heritage centre along Canvey Road which has an art and craft centre with a small folk museum. Ideal for a peaceful getaway from the bustling city with a loved one or the whole family.
Old Dutch cottage museum
1930s Labworth Cafe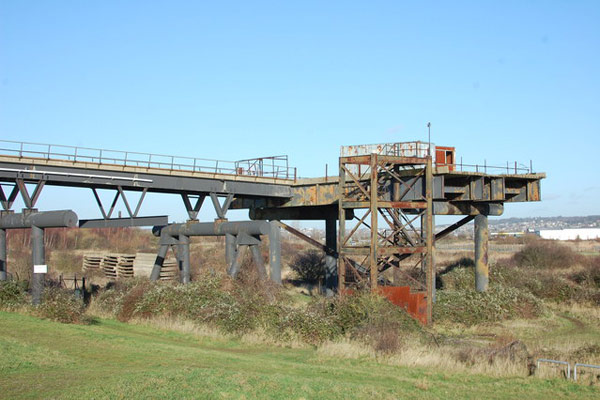 Disused oil jetties on the marshes
---