Half Term Activities in Essex
Now the weather's changing we know how important it is to keep the kids active and entertained whilst still finding something fun to do for the whole family. At c2c we don't just want to take you somewhere, we want your journeys with us to be just as memorable as the places you visit. So take a look below at some great ideas for this half term.
Make your money go further –Kids for £2
Make sure to get your Kids for £2 train tickets and take them out for less on weekdays over the half term holiday.


Prittlewell Princely Burial – Southend Central Museum
A brand new exhibition will be opening on the 11th May and showcasing the discoveries and artefacts found from the royal's burial ground near Southend. The preserved riches will be on display for the public to see, as well as being able to learn about the rich heritage of Southend and the history dating from the 6th Century. The museum has said it has made the exhibition interactive and child friendly, making it both a fun and educational day out for the family.
When? The exhibition opens Saturday 11th May at the Southend Central Museum
How much?  Tickets between £6-12, booking is recommended
How to get there? Take the train to Southend Central and take a short 10 minute walk up Southend high street (away from the seafront) toward the Southend Central Museum
Space Day with Castle Point Astronomy Club
Join the members of the Castle Point Astronomy Club at Hadleigh County Park and learn all about the great expanse of space, stars and the universe. You'll be guided on an intergalactic tour and will learn all about our solar system's constellations and meteorites in a special planetarium show, fun for both adults and children. You'll even design your very own (lemonade) bottle rocket, how high will yours go?
When? Sunday 2nd June, session time 10:30am – 12:30pm
How much? £6 per person
How to get there? Take the train to Benfleet station and from there you can walk directly into Hadleigh Park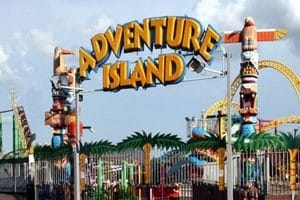 Adventure Island
What better way is there than burning off all that excited half-term energy than by experiencing the thrills of a theme park? Our answer, there isn't one. Southend's long famous Adventure Island is the ideal family joy generator; with rides, games, activities and musical performances, it's top class fun for everyone in the family. So, what are you waiting for?
When? Opens at 11 am and closes between 8-10:30 pm
How much? General pricing varies from £20 – £30 (depending on height of the customer), however, discount tickets are also available when you take the train.
How to get there? Take the c2c train to Southend Central and walk for roughly ten minutes towards the sea. You can't miss it.
Thurrock Thameside Nature Park
This destination is best placed for when the sun is joyfully shining overhead. Thurrock Thameside Nature Park is one of the great places to experience the outdoors, with hundreds of acres of green peppered with colour from the flowers and rich in wildlife. There cycle ways, bird hides, picnic spots and play areas, not to mention a visitor centre with a cafe to take the load off. Thurrock Thameside makes for the perfectly chilled half term family day out.
When? Open daily from 9am – 5pm.
How much? Free, however donations encouraged.
How to get there? Located by both Stanford-le-Hope and East Tilbury stations. However the walk from each is over 1.5 miles, so other transport might be advised.
Shoeburyness East Beach
If you enjoy a day visit to the beach but don't enjoy the vast crowds the sun and sea can bring, then Shoeburyness East Beach might be the spot for you. It doesn't have the bells and whistles that you might find with Southend Beach, but it's a perfect place to take in the scenery and enjoy the sea-salted air in a more relaxed setting. Don't forget to pack your sandwiches.
When? Open daily. Unfortunately dogs are not allowed between 1st May and 30th September
How much? Free
How to get there? Take the c2c train to the end of the line to Shoeburyness. The beach is just a short five minute walk from the station.

Sealife Adventure
Who doesn't love a visit to an aquarium and looking at all the fascinating creatures of the deep? We certainly do. At Southend's Sealife Adventure there's plenty to see, from penguin and tropical fish, to sharks and stingrays. But it's not just deep sea swimmers that live there, there's now also meerkats and monkeys too. Sealife Adventure makes for a great family activity that'll keep those big kids and small ones entertained, and with it being right on the Southend seaside, there's still fun to be had after you're finished. Fish and chips anyone?
When? Located on the Eastern Esplanade of Southend-on-Sea, Sealife Adventure is open daily between 10am and 5pm.
How much? Prices vary depending on age, however discounts are available when you take the train.
How to get there: Take the c2c train to Southend Central.
Find the best ticket value for you