You don't need to go far to enjoy a beautiful countryside walk. Explore the 29 mile Thames Estuary Path broken down into five different walks, all beginning and ending at a c2c train station.
The Thames Estuary Path has five famous walks through the lush South Essex Marshes. Along the routes you'll find historic sites, breathtaking landscapes, a wealth of Green Heritage and an abundance of wildlife areas.
Enjoying these walks makes a for a fun day out with friends or family, without having to break the bank. All the routes start and end at a c2c train station, and you can save on your train travel with one of our great value off-peak fares. Simply jump on a train heading towards Shoeburyness from London Fenchurch Street, or in the other direction, and get out at your starting station of choice. If you buy your tickets online 3+ days before travel, you can get from central London to Tilbury Town from £8.00 return .
Why not get your hands on a c2c Smartcard and download our app for the quickest way to buy your tickets and beat ticket office queues?
Walk 1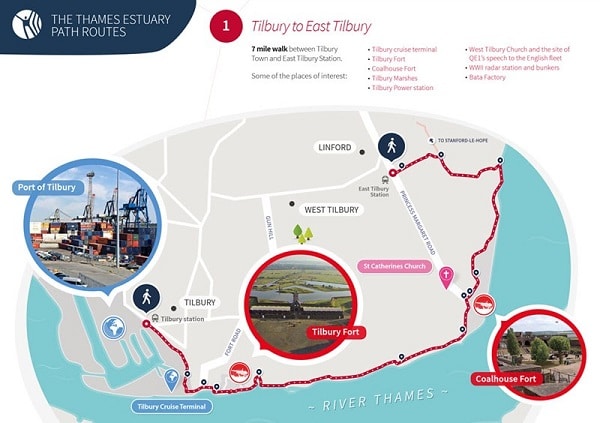 Distance: 7 miles
Estimated Time: 2.5-3 hours
Your journey begins at Tilbury Station and, after a short walk past Tilbury docks, the path leads to the historic 16th century Tilbury Fort. You'll then pass along the base of the power station sea wall on the foreshore of the Thames, leading to the historic nineteenth century Coalhouse Fort on the bend of the river. The path continues following the Thames before turning towards our East Tilbury train station.
Walk 2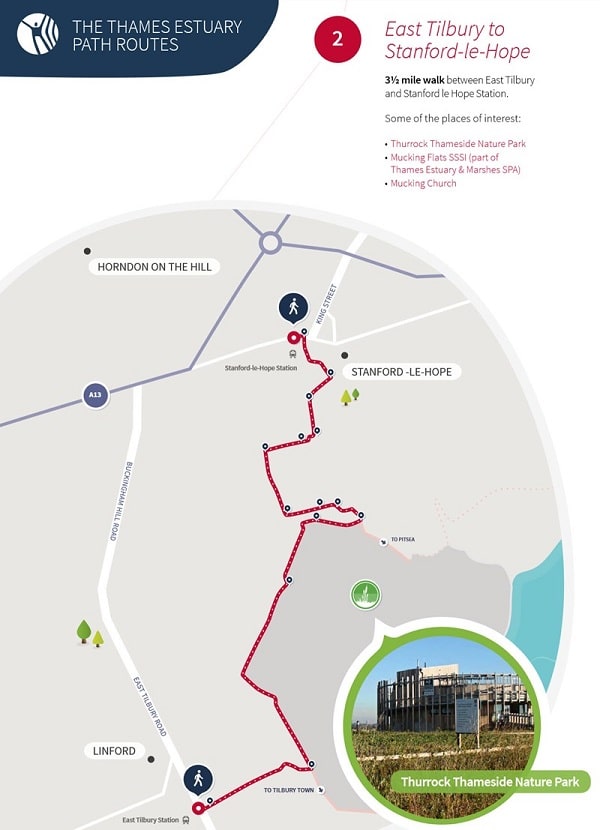 Distance: 3.5 miles
Estimated time: 1-1.5 hours
This path begins at East Tilbury station and runs towards Thurrock Thameside Nature Park. A causeway was created to take walkers over the lake, rich in biodiversity and home to many varieties of birds. Reptiles and butterflies can be seen throughout summer and, in winter, migratory birds from around the world are often spotted. Once past the park, walkers can either make their way to Stanford-le-Hope Station (which is also the start of the next walk if you're not too tired!) or continue on towards Pitsea.
Walk 3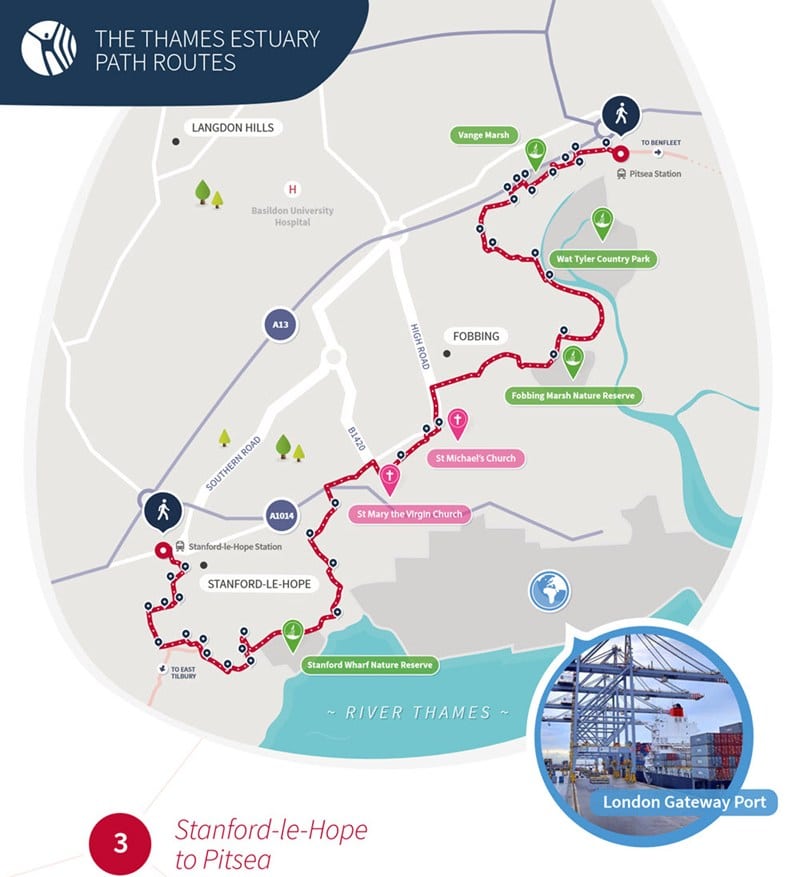 Distance: 10 miles
Estimated Time: 4-5 hours
The Stanford to Pitsea walk is the longest path at 10 miles in length. The path takes a route across the countryside, away from the Thames, and around the London Gateway Port. Some sections of fields on the Fobbing and Corringham marshes contain livestock, so walkers are advised to keep dogs on leads at these points. These marshes are miles from the road and the sense of isolation is pure peace.
Walk 4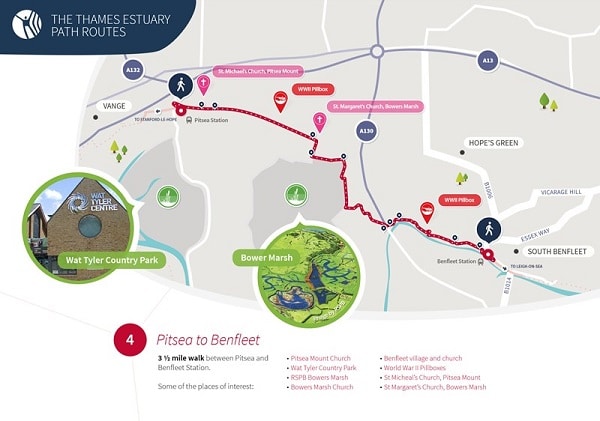 Distance: 3.5 miles
Time estimate: 1-1.5 hours
From Pitsea Station, the path heads east along the north side of the train line, through fields from Pitsea towards Benfleet. The path runs under the railway and onto the huge Bowers Marsh Nature Reserve, run by the RSPB. In summer these fields are full of beautiful wildflowers and are amazing as the backdrop to a romantic or family photo shoot. The path joins Benfleet Creek as it passes north of Canvey Island.
Walk 5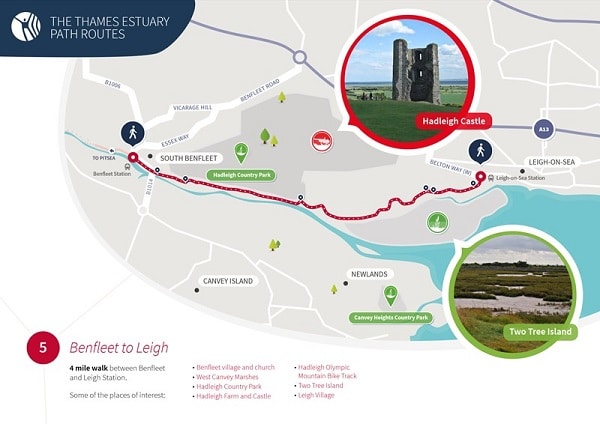 Distance: 4 miles
Estimated Time: 1.5-2 hours
The final part of the path continues from Benfleet station along the creek towards Leigh-on-Sea. This part of the route is also suitable for cycling. Sailing clubs line the route, as well as a café situated in an old boat if you need a caffeine pick me up! Hadleigh Castle overlooks the path and can be reached by taking a short detour up the hill. Once you arrive at Leigh-on-Sea, walkers can enjoy a well-earned rest at one of the many pubs, cafes and shell fish stalls. See our guide to Leigh-on-Sea for more information.
Helpful tips
Website and Maps
See some of the different paths here,  which gives clear walking directions and plenty of interesting information about the sights along the route.
When to Go
These walks can be beautiful at any time of year. Try going on a cold crisp winter day, or a fresh spring day to see signs of new life everywhere you look. Do be aware that paths may be muddy during rainy periods.
Walkers with Dogs
There are certain sections of the paths where dogs must be on their leads, which are clearly indicated by signs along the route.