Christmas lights along our route
Even though Christmas seems to start earlier each year, it never truly gets going until the Christmas lights come on. Here are some of the best Christmas lights to brighten up those long winter nights. Make sure to grab our GroupSave deal if you're travelling in a group of three or more adults and save a third on your train tickets.
Travel from South Essex to London return from £7.10 with our Online Advance tickets
Oxford Street Christmas lights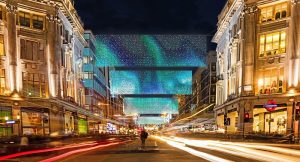 Switches on 21 November 2019
This year the world famous Oxford Street light display is truly going all out. Brand new to the display are 27 individual LED curtains draped over the entire street, made with a whopping 220,000 sparkling lights. Also, having teamed up with Capital Xtra, there will be in-store performances from some of the UK's freshest hip-hop, grime and R&B artists. Do not miss it!
Nearest c2c station: Fenchurch Street then Central Line to Oxford Circus
Southend-on-Sea Christmas lights
Switches on 16 November 2019
What's better than seeing the Christmas lights turned on by the sea? A lot of fireworks to go with it! Come on down to the seafront at Southend to enjoy the last firework display of 2019 and witness the gorgeous lights come alive. It'll certainly be a night that ends with a bang!
Nearest c2c station: Southend Central
Leigh-on-Sea Christmas lights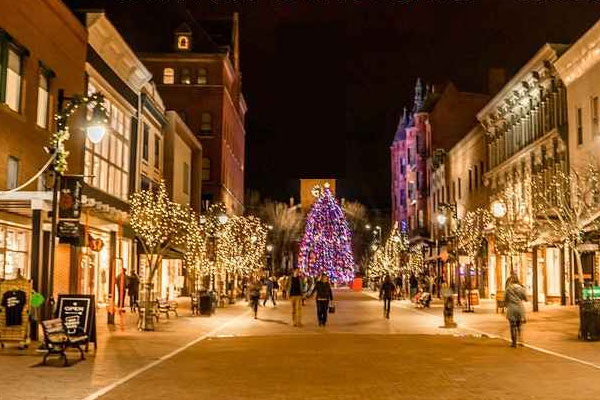 Switches on 29 November 219
Once again the elves at Leigh have been busy setting up another unforgettable night for families and children alike. There will be The Yuletide Parade, local choirs and musical groups giving entertainment for all throughout, as well as a pre-event fun stop for kids at Leigh Community Centre. There you'll be able to visit the grotto and ride Santa's sleigh. It's set up to be a perfect family day.
Nearest c2c station: Leigh-on-Sea
Carnaby Street Christmas lights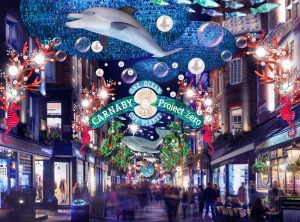 Switches on 7 November
This year Carnaby Street are really making a splash with their lights display, using nothing but recycled materials (including over 1,500 plastic bottles and eco-friendly vegan paint) to decorate the London street in a theme that celebrates the oceans and why we should protect them. They'll be a sea of illuminated creatures up above, including dolphins, turtles, sharks and a bubble-blowing whale. We think this could be a crowd favourite this year.
Nearest c2c station: Fenchurch Street then Central Line to Oxford Circus
Trafalgar Square Christmas Tree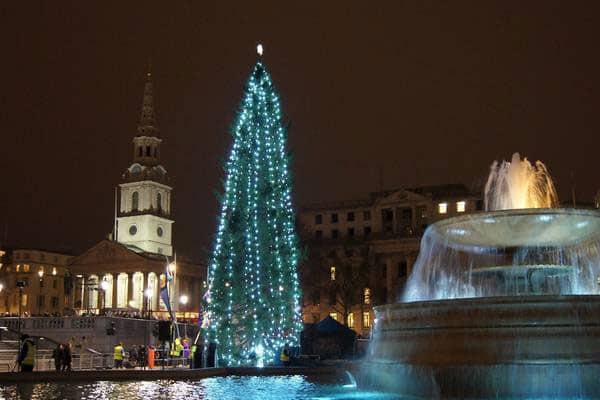 Goes up on 5 December 2019
Come and celebrate the annual Christmas present from Norway, in gratitude for Britain's support in WWII, and admire the magnificent 82ft tall tree decorated in traditional Norwegian style. There is also a blessing of the crib ceremony and live music and carols throughout the season.
Nearest c2c station: Fenchurch Street then change for London Underground
Covent Garden Christmas lights
Switches on 12 November
The much anticipated 'Covent Christmas' is nearly here and is expected to be bigger and better than ever before. With over 30,000 glorious lights on the hand-picked Christmas tree, it's a magical spectacle to behold. Here's hoping Santa lets the giant reindeer return for a third year too, which has become something of a staple over the past couple years. Bring the whole family and enjoy!
Nearest c2c station: Fenchurch Street then change for London Underground
Great savings when you buy online
Make sure to nab the best savings with a GroupSave offer valid on all off-peak tickets (weekends and weekdays), or book ahead online in advance and save on off-peak weekday ticket too. Bargain!