Even though Christmas seems to start earlier each year, it never truly gets going until the Christmas lights come on. Here are some of the best Christmas lights to brighten up those long winter nights. Make sure to grab our GroupSave deal if you're travelling in a group of three or more adults and save a third on your train tickets.
Travel from Southend to London return for £12.70 with our Online Advance tickets
Oxford Street Christmas lights
Switches on 2 November 2023
Recycling last year's dazzling 300,000 dangling stars display, the world-famous Oxford Street lights are still a must for a truly Christmassy experience down the iconic street. This year, the shopping destination has partnered with the children's charity Starlight, which aims to bring joy to children in hospital. You can sponsor a star here to help raise money for the charity.
Nearest c2c station: Fenchurch Street then Central Line to Oxford Circus
Carnaby Street Christmas lights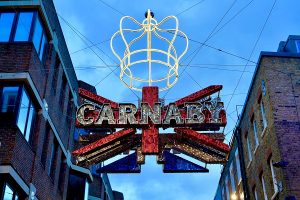 Switches on 8 November 2023
Carnaby street is always a buzzing and vibrant atmosphere, and this is no different once the famous street is lit up by the dazzling Christmas lights. This year's theme is the Carnaby Universe, where neon spheres and light waves will create an immersive and psychedelic experience. Like Oxford Street, Carnaby Street Lights has partnered with a charity, called Choose Love, which helps buy essential supplies and life-saving interventions for displaced people and refugees. A pop-up store is opening on November 22nd 2023 down the iconic street and will be selling Choose Love merchandise to help raise funds.
Nearest c2c station: Fenchurch Street then Central Line to Oxford Circus
Regent Street Christmas lights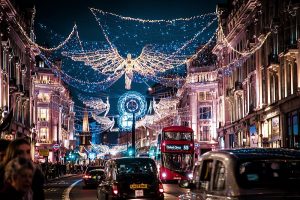 Switches on 9 November 2023
Make your Christmas shopping this year even more festive as you walk along the iconic Regent Street. Stretching across the entire street and illuminating the luxury shops, these lights will be switched on from 2pm to midnight to make the displays more eco-friendly.
Nearest c2c station: Fenchurch Street then Central Line to Oxford Circus
Southend Christmas lights
Switches on 18 November 2023
It's back and bigger than ever! The Southend-on-Sea Christmas switch-on is unlike anything else, complete with cluster of live performances and festive activities across a four-day extravaganza. These diverse performances from flamenco dancers, Caribbean drums, Ceilidh band and more will be rounded off by a wholesome festive sing-along. Be sure not to miss this one.
Nearest c2c station: Southend Central
Great savings when you buy online
Make sure to nab the best savings with a GroupSave offer valid on all off-peak tickets (weekends and weekdays), or book ahead online in advance and save on off-peak weekday ticket too. Bargain!