Summer activities along the South Essex coast
South Essex is full of fun things to do with your family this summer. You can bask in the sunshine at Southend's famous beaches on a hot day, or enjoy some cosier days at a local theatre or indoor destinations during those wetter summer days. Whatever the weather, take a look at our top picks for the best things to do from July to September.
Take the Kids for just £2
Our Kids for £2 offer is available on off-peak weekday trains, so you can take the kids out for less over the holidays. Little ones ages 4 and under always travel free.

Picnics in the Parks
Have your blankets and sandwiches at the ready for those sunny South Essex days. There are lots of great places to perch up for a picnic near many of our stations, some of which include play areas if the little ones get a bit restless. Some of our favourites include Wat Tyler Country Park, Hadleigh Park, Thurrock Nature Park and Rainham Marshes RSPB Reserve.
How much does it cost? FREE
How do I get there? Parks vary in distance from the stations but are typically between a 15-35 minute walk. Check the closest station to the park you plan on visiting.
Hadleigh Farm Rare Breeds Centre
If you and the kids are interested in nature, the history of the area or getting up close with the farmyard friendlies; Hadleigh Farm offers all of the above and even more. So come and enjoy an idyllic piece of English countryside that's made perfectly to make treasured family memories.
How much does it cost? Adult tickets cost £5.20, Child tickets (aged 3-16) cost £3.80 and children under 36 months go for free.
How do I get there? Take the c2c train to either Benfleet or Leigh-on-Sea. From there it's an easy walk through the extremely scenic through Hadleigh Park, however this can take up to 40 minutes.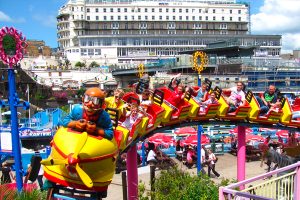 Adventure Island
What's a summer holiday without a thrilling trip to a theme park? Visit Southend's ever-popular Adventure Island and immerse yourself in one of the most exciting days Essex can offer. There's something here for everyone whether you're an adrenaline junkie or a softer soul, including rides for toddlers, teens and adults.
How much does it cost? Wristband prices vary depending on the season, but are normally £20-£30.
How do I get there? Take the c2c train to Southend Central, then it's just a 10-15 minute walk towards the shoreline.
Cliffs Pavilion & Palace Theatre
Going to see a staged production is always a great and exciting experience, no matter what age you are. This summer there's a wide variety of things happening on stage that'll interest lots of different personalities, including The Tiger Who Came to Tea, In The Night Garden: Live, Peppa Pig – My First Concert and also A Tribute to Ariana Grande and Jo Jo Siwa. We'd recommend not waiting around, as these shows are sure to sell out.
How much does it cost? Ticket prices vary depending on the show, however some offer discounted family tickets.
How do I get there? The Cliffs Pavilion and Palace Theatre are both an easy and short walk from Westcliff Station, approximately a 10 and 20 minute walk respectively.

Belfairs Woods
Any encouragement we can give to get the kids in the big outdoors is always great. This summer at Belfairs Woods there's lots of fun activities taking place that teach them a whole host of interesting things and skills for those wild adventures outside, the Belfairs Young Rangers programme is proving to be very popular.
How much does it cost? £6 per child
How do I get there? Take the c2c train to Leigh-on-Sea, from there it's a 1.5 mile walk to the centre of Belfairs Woods.
South Essex Beaches
On those bright, hot and sunny days along the Southend coastline there's only one way to spend the day; relaxing on the beach. And the best part about South Essex is, there's so many to choose from! Visit the bustling tourist favourite City Beach along the Southend esplanade, Thorpe Bay Beach that's decorated with a string of multicoloured beach huts or travel further afield for the more peaceful seaside spot at Shoebury East Beach. Wherever you go, c2c is right there with you taking you to your sunny summer destinations.
How much does it cost? FREE
How do I get there? Most South Essex beaches are just a stone's throw away from a c2c station. Plan prior to your journey which beach you are visiting, however most beachess are just a 10-15 minute walk from the station. 

Wildfest
The debut festival event hosted by the Essex Wildlife Trust, this aims to be an amazingly fun (and educational) event for children to learn about the wild whilst being wild themselves! There is a full day of activities that will keep all the little ones entertained including firelighting and cooking, slime making, potions and spells, music making, face painting and much more. Wildfest is shaping up to be a truly special family day out. 
How much does it cost? £5 per child, accompanying adults go free.
How do I get there? Take the c2c train to East Tilbury as this is currently the closest station to Essex Wildlife Trust Thurrock Thameside Nature Park. It's 2.9 miles away from the station, so we'd recommend taking further transport from there.
Find the best value ticket for you