London pop ups are a great way to battle the winter blues. There are lots on offer including rooftop bars, dining, dancing, and immersive experiences. Here are some of our favourite winter pop ups. Save a third on your train tickets if three or more of you travel together with our GroupSave deal.
Travel from Southend to London return for £12.70 with our Online Advance tickets
Winter pop up at Skylight Rooftop, Tobacco Dock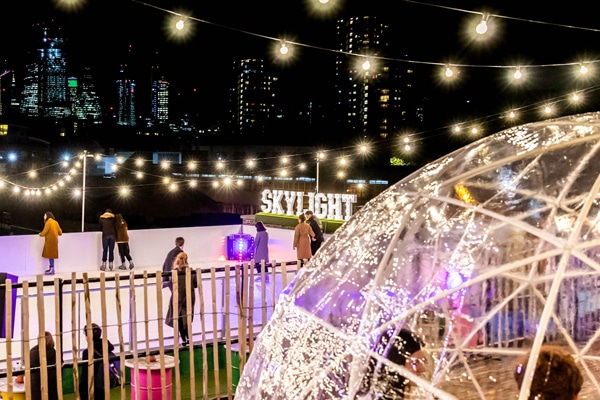 From November 10
For a touch of glamour, if not frost, the Skylight Rooftop rink on the Tobacco Dock is ideal for those icy escapades. There are igloos aplenty in which to sip wintery cocktails, ciders and restorative mulled wines.
Nearest c2c station is Limehouse
Jimmy's Lodge Tower Bridge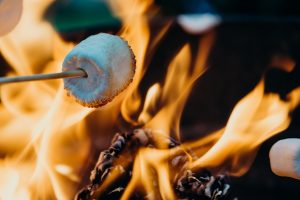 From November 2 – December 31 2023
Set by Waterloo Bridge, Jimmy's Winter Lodge's much-anticipated return this festive season is a must. Here you can dine on exquisite french cuisine, and complete with fondue, steak and other classic dishes, all while cosied up in your private glass igloo surrounded by the Thames and city lights.
Nearest c2c station: Fenchurch Street
Coppa Club, Tower Bridge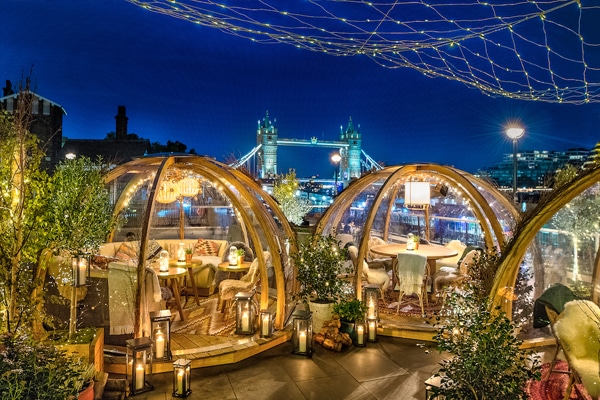 Arguably the most instagrammed of all the winter pop ups, the Coppa Club offers private heated igloos overlooking Tower Bridge. Inside your private heated igloo, you'll find sheepskin blankets as you wine and dine to boot. The igloos get snapped up early so get in there quick, but daily walk-ins are also available.
Nearest c2c station: Fenchurch Street
Christmas at King's Cross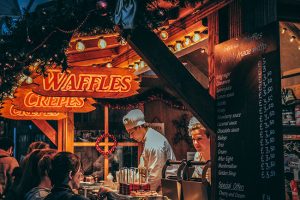 From November 9
This winter, King's Cross is being transformed into the apres-ski destination of the season. There's something for everyone at this exciting pop-up, from alpine-inspired food and drinks, to live DJ sets and an amazing Christmas market filled with delicious treats.
Nearest c2c station: Liverpool Street
Christmas at Battersea Power Station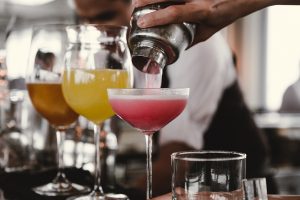 From November 10 2023 – January 7 2024
Joe Malone brings back the Glide at Battersea riverside rink so you can live your dream date night surrounded by twinkling stars. If you're looking to shelter from the cold instead, relax with a treat at The Glass House bar, offering pub quizzes, themed music nights, DJs and live bands.
Nearest c2c station: Fenchurch Street
Christmas at Kew Gardens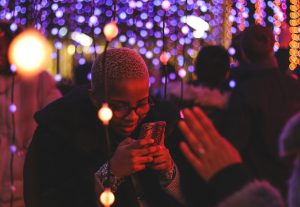 Selected dates, 15 November 2023 – 7 January 2024
Visit Kew Gardens this Christmas to be dazzled by an enchanting winter trail, exhilarating laser show and an appearance by Father Christmas. The pop-up is set to display one million glistening lights and isn't one to be missed.
Nearest c2c station: Fenchurch Street
Great savings when you buy online
Make sure to nab the best savings with a GroupSave offer valid on all off-peak tickets (weekends and weekdays), or book ahead online in advance and save on off-peak weekday ticket too. Bargain!
Explore London with 2FOR1 entry on over 150 attractions