The romantic ruins of a 'proper' royal castle, Hadleigh Castle's mighty defences became one of Edward III's favourite residences during the Hundred Years War. A combination of subsidence and 16th Century builders carting off the stone for construction elsewhere has, sadly, left the castle in ruins, but even what remains acts as a glimpse back into a magical Medieval world. Now, Hadleigh Castle is left alone on its high top as a stark and stunning landmark overlooking the scenic views across South Essex and the Thames Estuary.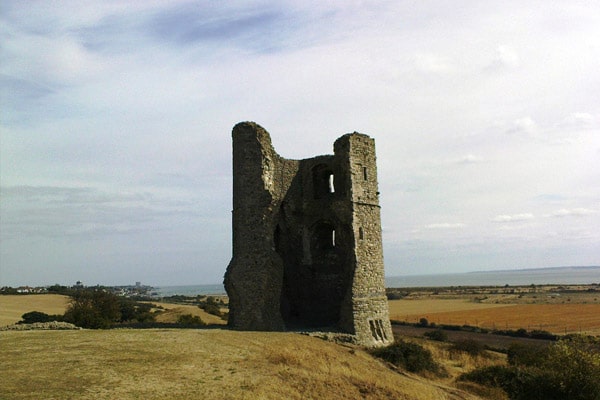 When was Hadleigh Castle built?
Hadleigh Castle has been around for quite a while, being first built all the way back in 1215.
Who built Hadleigh Castle?
Hubert de Burgh, the Earl of Kent, had Hadleigh Castle built in the 13th century. The castle was renovated by King Edward III in the early 14th century.
What is the history of Hadleigh Castle?
Hadleigh Castle has seen its fair share of Kings and Queens through the centuries come and some have even made it their home. Its most notable resident was King Edward III; if he hadn't had the castle significantly restored and renovated for residential purposes, the castle's demise would have come about far sooner.
After the ageing king passed away in 1377, his successors took very little interest in the castle as a residence. Hadleigh Castle then became a leased property for tenants for nearly 200 years, until ultimately the castle was purchased by Lord Riche in 1551. He too had little interest in moving in and unfortunately sold it off as building materials, leaving the demolished shadow of its former glory we now see today.
What did Hadleigh Castle look like?
While Hadleigh Castle is now in ruins, it was a grand and fortified castle for centuries after it was initially built. You can find more information about what it would have looked like as well as a plan of the castle here.
Can you walk the grounds of Hadleigh Castle?
Hadleigh Castle is an ideal place to visit for friends and families, couples and kids, where you're welcomed to walk the lands and discover its rich history. The area is also dog friendly providing they are on their leads, giving you a much more exciting than normal route for your walks.
What to see and do at Hadleigh Castle?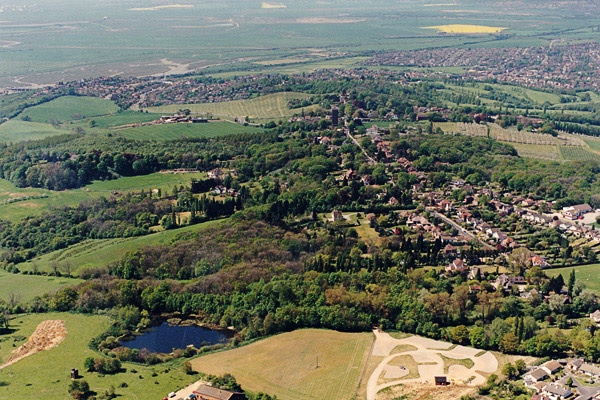 Atop the hilly green open lands of Hadleigh and its neighbouring park is where you'll find the idyllic backdrop of the Essex marshes. Hadleigh Castle is not only a superb visit for anyone with an interest in England's history, but for one and all who fancy seeing the grand ruins of a once glorious castle. Its scenic fields overlooking the Thames Estuary make for a perfect picnic spot to sit and take in the fresh open air.
We recommend making a day out of it and exploring nearby Leigh-on-Sea or Hadleigh Park.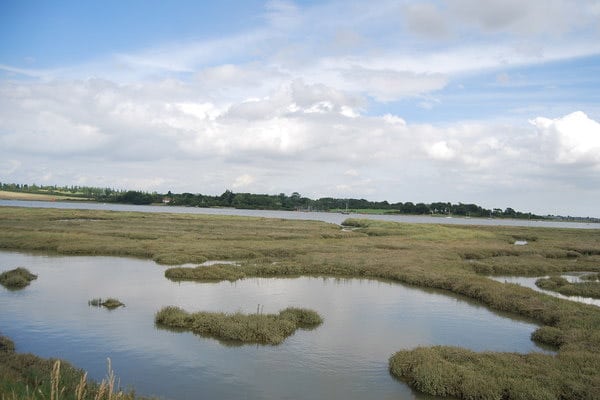 Where can I eat and drink near Hadleigh Castle?
There are a number of food and drink options near Hadleigh Castle. You can find fast food spots, restaurants, as well as The Castle pub all less than a 15 minute walk away from the castle.
Can I go camping or glamping near Hadleigh Castle?
Essex Glamping provide glamping and camping experiences at their site which is just a few minutes' walk from the castle.
How to get to Hadleigh Castle?
Hadleigh Castle is a scenic 1.5 mile walk (approx 30 minutes) from Leigh-on-Sea Station, which is easily findable and sign posted along the route.
Take the train from London Fenchurch Street which will go direct through to Leigh-on-Sea Station. The journey time from London is approximately 44 minutes, depending on which train you use. There are approximately 6 trains per hour on a weekday, depending on peak or off-peak travel time and train tickets bought online more than three days in advance are £12.05 for an off-peak day return.
Whether you're travelling in a group or have the kids with you, explore our great value ticket offers to make sure to get the best deal for you. Also check out our app and Smartcard for the quickest way to buy your tickets in advance and avoid ticket office queues.