Rainham Marshes nature reserve first opened to the public in 2006 having being privately owned by the Ministry of Defence for over 100 years. Since then all manner of critters have made their home within its 1,000 acres. Kingfishers, egrets, lapwings, wood pigeons, swifts, robins and dragonflies are just a handful of the wildlife that can be spotted here.
Rainham Marshes has lots to offer the whole family, as well as nature enthusiasts and dog walkers alike. Right on London's doorstep, it's a real green gem for a quick escape from the city where you can reconnect with nature and enjoy walking, exploring, learning about local wildlife – and a well earned cuppa in the café at the end.
What to see at RSPB Rainham Marshes nature reserve?
There is lots of wildlife to see at Rainham Marshes nature reserve, and we mean lots! From dozens of species of bird to butterflies, dragonflies, bees, water voles, marsh frogs and more, you don't have to venture too far from the capital to enjoy the country's scenic offerings.
The Thames riverside paths give walkers a picturesque view of London's skyline across the water, with there also being purpose built hideaways to take in the surroundings without disturbing the local residents.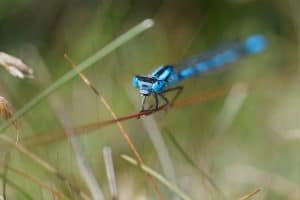 Is there an entrance fee for RSPB Rainham Marshes nature reserve?
Entrance to RSPB Rainham Marshes nature reserve is free for RSPB members. For non-members, the fee is £6 for adults, £4 for students, and £3 for children (free entrance for under 5s and first child). For the latest, make sure you check the RSPB website.
What to do at RSPB Rainham Marshes nature reserve?
Rainham Marshes isn't just your regular walk in the park, there are plenty of things there to enjoy and keep you going for the entire day!
If you're an active sort and like burning some energy, there are plenty of options for you to pick from. There are scenic pathways throughout the Marshes which double up as fantastic jogging routes. There's even bike hire available if you'd rather pedal past the birds in the summer breeze. If you're still eager to do more, there's also an adventure area with climbing boulders (suitable for toddlers as well). It's worth keeping an eye out for events such as wildlife walks and even photography tuition. During the school holidays Rainham Marshes put on extra family-friendly events. Visit their events page for the latest.
If however you're looking for something a little less fast paced, then there are still many options for you. Sit back and relax with a cappuccino and cake (or whatever else may take your fancy) at the café with a view. If you'd rather make your own nest for the day there are also great picnic spots for you to lay down the blanket and basket.
Whatever you're in the mood for, Rainham Marshes makes the ultimate "let's do something different" day out.
Where to eat in Rainham Marshes nature reserve?
You'll find a café in RSPB Rainham Marshes nature reserve, which has hot and cold drinks and snacks, plus a selection of hot meals, with vegan, vegetarian and gluten free options. There's also a children's menu for the little ones!
Is there a map I can use to find my way around RSPB Rainham Marshes nature reserve?
Take a look at the RSPB Rainham Marshes trail guide which shows different routes you can take to explore the reserve.
How to get to RSPB Rainham Marshes nature reserve?
The closest train station on the c2c line is, in fact, Purfleet, not Rainham. From there it's a 20 minute walk to reach Rainham Marshes. Turn right when exiting the station and the route can be easily found by following the brown pedestrian signs along the riverside path. Cross the Mardyke Bridge and there you will find the Visitor Centre.
Take the train from London Fenchurch Street which will go directly through to Purfleet, and continue to Grays. The journey time from London is around 27 minutes, depending on which train you use. There are approximately two trains per hour on a weekday.
Whether you're travelling in a group or have the kids with you, explore our great value ticket offers to make sure to get the best deal for you. Super off-peak tickets are now available on Smartcard – download our app and order a Smartcard for the quickest way to get your tickets.