The famous wartime forts left standing out in the Thames Estuary were originally part of the coastal defence network during WWII. Of course, not all of them are left standing today, but the ones that remain are a stark reminder of our history during the 20th century.
Located a mere 9 miles of the shore from Southend Pier, the Maunsell Forts are powerful and lasting symbols of days gone by and can be visited by boat for the keen explorer and historian.
Travel from London to Shoeburyness return from £13.10 with our online advance tickets. You can buy your Off-Peak tickets on c2c Smartcard, making your journey quicker and easier. Find out more about Smartcard.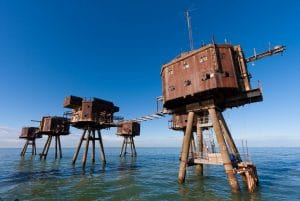 History of Maunsell Forts
Originally built on land in 1942, the central command towers were surrounded by a cluster of seven stilted buildings that made up the sea based stronghold. The forts had a successful wartime career, helping the coastal fronts and Navy through various battles in protecting the South-Eastern coasts.
Eventually they would be very badly damaged by storms, not to mention also being hit by a ship! The forts were officially dismantled in 1959-60 and would be of no further practical use. However, quite famously at the time, the forts became a secret haven for pirate radio stations throughout the 60s and 70s – inspiring many books, TV shows and the film The Boat That Rocked.
Nowadays, the remaining Redsands Fort and Shivering Sands Fort are left unused and decaying and serve only as shells of their former glory.
What to see and do at Maunsell Forts?
Take a three hour cruise from Southend Pier and venture out to sea towards these nautical landmarks. On the voyage outward you will also pass by the Mulbury Harbour and Shoebury Boom, and when returning passing the SS. Richard Montgomery; adding to the list of observable history!
For those avid photographers out there, you'll have the chance to take plenty of pictures in and around the towers as the vessels are small enough to pass through and under the towers.
The tour boats include a bar selling drinks and snacks, however packed lunches are welcome if you're keen for a sandwich on the sea. We also advise to take the tour on a sunny day, for obvious reasons!
How to get there
Take the train from London Fenchurch Street which will go direct through to Southend Central, and continue to Shoeburyness. The journey time from London is between 55 minutes – 1 hour and 15 minutes, depending on which train you use. There are approximately 6 trains per hour on a weekday and train tickets bought more than three days in advance are £13.10.
Southend Pier is only a short 5-10 minute walk from Southend Central station.
Whether you're travelling in a group or have the kids with you, explore our great value ticket offers to make sure to get the best deal for you.