Travel from Southend to London return for £12.70 with our online advance tickets
London has plenty of places to shop up a storm, from department stores, designer boutiques and to household names. Why not make a day of it with our ultimate guide to the eight best places for shopping in London that you'd be mad to miss out. Plus check out our guide to Westfield Stratford City, moments away from Stratford Station or a short tube journey from West Ham.
1. One New Change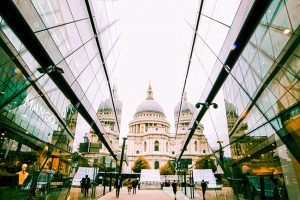 What to expect: High-end high street brands with roof terrace views of St Paul's Cathedral
Nearest c2c station: London Fenchurch Street
London's sleekest shopping venue is a day out in itself. Explore three floors of the best high street brands in modern luxury designed by French architect Jean Nouvel. The newest member of the legendary 'Square Mile' club where the true 'City of London' lies, One New Change rests amongst iconic giants: the Bank of England and the Gherkin. Make the most of your day shopping with One New Change's roof terrace and enjoy beautiful bars and eateries.
2. Boxpark
What to expect: Independent designers and the latest urban fashion
Nearest c2c station: London Fenchurch Street and Liverpool Street 
For a more alternative vibe, check out Shoreditch's Boxpark, the world's first pop-up mall. Grab a mojito from Cottons Rhum Shack and gain an exclusive insight into London's best independent designers. Word of caution: each pop-up shop is housed in repurposed shipping containers – plus points for urban chic, but don't expect a 5* fitting room. Boxpark retailers include Sugar & Style, Inspired by Africa and Blackjack Vintage. Undoubtedly one of the best (and most unique) places for shopping in London.
3. The Royal Exchange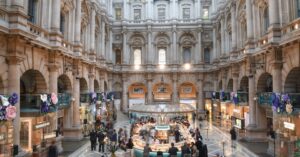 What to expect: London heritage, world-class luxuries and all day dining options
Nearest c2c station: London Fenchurch Street
New trends come and go but the Royal Exchange has proven its place for the shopping elite since 1571, when it garnered its royal status from Queen Elizabeth I. Having been rebuilt twice following the Great Fire and also finally opened by Queen Victoria in it's final iteration in 1844, The Royal Exchange is now a luxury shopping destination with central courtyard devoted to the prestigious Fortnum's Bar and Restaurant, where you can ponder your recent purchase or window shopping escapade from Hermes to Tiffany & Co.
4. Spitalfields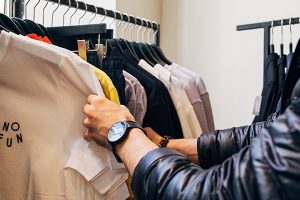 What to expect: One of a kind gems and impromptu dancing
Nearest c2c station: London Fenchurch Street
One of the best places to shop in London for one of a kind treasures, antiques and handmade fashions. Spitalfields market is a must-visit for anyone looking for something unique and original. Check out their Events page to see what's coming up. We love Spitalfields' Tea Dances where people of all ages partake in an afternoon foxtrot or cha cha cha with the New Covent Garden Dance Orchestra – the perfect backdrop to rummaging the sales rails.
5. Berwick Street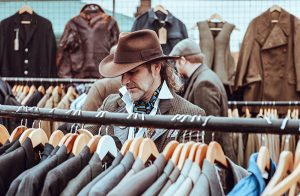 What to expect: London's music hub and vintage clobber
Nearest c2c station: London Fenchurch Street, change for TFL tube
Take the tube for London's musical hub and vintage clothing. Berwick Street is a music lover's paradise with instruments adorning the walls and ceilings of numerous specialised stores as well as independent record stores along the 'Golden Mile of Vinyl'. You may even recognise it as the location for the Oasis album cover '(What's the Story) Morning Glory'. Fancy a break from the shops? Check out Berwick Street Market for mouth-watering cheeses, cakes and breads as well as delicious hot food options to refuel on your day out at the best London shops.
6. Carnaby Street
What to expect: Quirky sixties still alive and kicking
Nearest c2c station: London Fenchurch Street, change for TFL tube
Feel that swinging sixties vibe in London's creative epicentre: Carnaby Street. One of London's best places for shopping since 1960, Carnaby Street has never been one to shy away from the limelight. From The Kinks' lyrics referencing the Carnabetian army to Tom Jones walking a cheetah on a leash with Bond girl Christine Spooner on his arm, Carnaby Street has seen it all. With more than 100 brands and over 60 independent restaurants and bars, we're sure you'll find something unique and trendsetting. And if you still can't get enough, Carnaby Street is just a stone's throw from the high-street favourites of Oxford Circus.
7. Brick Lane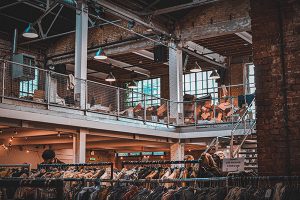 What to expect: Diverse mix of vintage and independent shops
Nearest c2c station: London Fenchurch Street 
Be bold and beautiful along Brick Lane and unleash your whacky side with vintage threads and artsy cafes to in relax after a hard day hitting the shops. Brick Lane is one of the best, and most beautiful, places to shop in London, with street art inspiration and a diverse mix of shops and people. Rummage around countless vintage shops for reasonably priced vintage clothes you won't find anywhere else, as well as a whole host of independent designers.
8. Westfield Stratford City
What to expect: If Disneyland made shopping centres…
Nearest c2c station: Stratford or West Ham, change for TFL tube or DLR
From florists to photography, electronics to lingerie, Westfield Stratford shopping centre has something for everyone. Check out designer favourites Calvin Klein, Tommy Hilfiger & Lacoste. For signature styles head to Levi's, Victoria's Secret or Adidas.
Looking for a gift? Head to the Apple Store for the latest in sleek gadgetry, or for some extra special bling why not head to Swarovski, Ernest Jones or Pandora?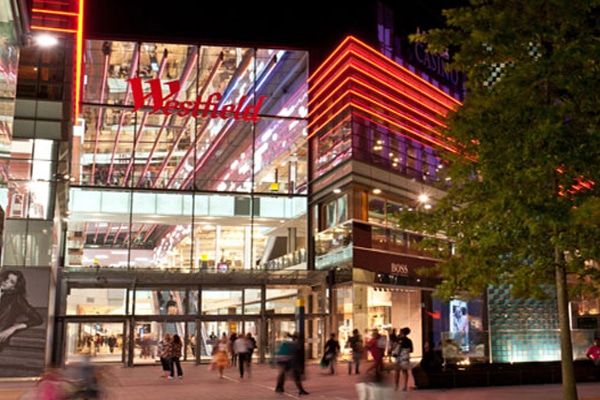 Eating & drinking at Westfield Stratford
Eat from around the world with Busaba (Thai), Cabana Brasilian Barbecue & Chopstix Noodle Bar (Pan Asian), amongst almost 100 other options. For drinks with a view and a lively atmosphere, head to Aspers Casino's Sky Bar or Tanzibar.
Travelling with kids
Need to kit out the kids? Kids Around offer the best in branded and designer kidswear. You'll also find reputable childrenswear sections in high street favourites H&M, Primark & River Island.
You'll find an abundance of child-friendly eateries at Westfield Stratford, from Nando's to Pizza Hut.
Read more about services and events for kids on Westfield Stratford City's website.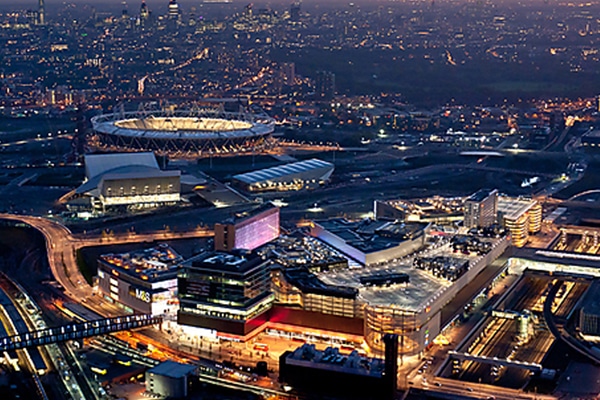 Leisure activities at Westfield Stratford
Westfield Stratford isn't just about the shops! Go bowling at All Star Lanes, practise your batting skills at Home Run House or watch the latest blockbuster at Vue Cinema. There's also a casino with all the games you'd expect – get your poker face on!
Getting to Westfield Stratford
Westfield Stratford shopping centre is conveniently located just moments from Stratford Station, which is the stop before Liverpool Street when we're running our alternative London route during engineering work. During normal service, you can jump off at West Ham Station and then get the Jubilee line tube one stop eastbound to Stratford. Make sure to check out our online advance discount to get your £12.70 return train tickets 3+ days before you travel, or get kids' tickets for £2. Check out our other off-peak fare offers for even more discounts!
Download our app and order a Smartcard for the quickest way to buy your tickets in advance and avoid ticket office queues.