Why go to The O2?
The world famous concert arena and entertainment complex has become a staple destination for tourists, music concert-goers and fun experience-seekers in general. The O2 in Greenwich is easily reachable from both London and our other Essex stations, making it a no-brainer as a top spot for a fantastic day out.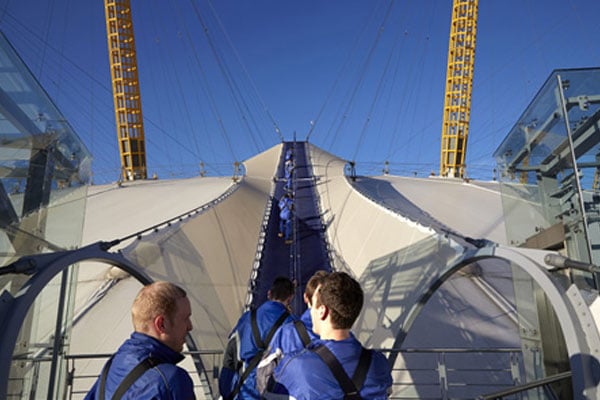 What to do at The O2?
The great thing about The O2 is that it never just has one thing you can experience. Of course nowadays it's most commonly associated with music gigs for top bands and artists, however there's so much more going on underneath that big white tent. The O2 also hosts sporting events including tennis, basketball, darts and boxing. Find out what's coming up at The O2 on their events page. There's now also the popular Up at The O2 experience, where you can literally walk up and over the entire dome, giving you views of London to take your breath away.
Other things you can also do there include tenpin bowling, a cinema, a trampoline park and everything from axe throwing to crazy golf at Boom Battle Bar.

Where to eat at The O2?
If you've got a head for heights, check out London In The Sky – a unique dining experience at 100 feet above the ground. Choose from brunch, lunch, afternoon tea, cocktails or dinner.
If you'd rather keep your feet firmly on the ground, there are dozens of bars and restaurants to choose from all around and in the o2. If you're fancy burgers, head to Five Guys, Gourmet Burger Kitchen or Gordon Ramsay Street Burger. Something Italian? Try ASK or or Zizzi's. There are also plenty of other diverse options such as Busaba, Las Iguanas, and Soukra. With plenty more to choose from you can see the full list here.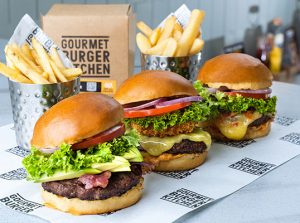 What's the history of The O2?
For many, The O2 will always first and foremost be the 'Millennium Dome', a structure designed and built to celebrate the turn of the new millennium into the year 2000. It was originally used as more of a large exhibition space, but in the early noughties, it began its evolution into what we're more familiar with today.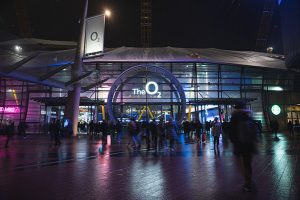 An interesting and lesser-known fact about the building itself is the significance of the tall yellow spires that make it such a recognisable landmark. The 12 100m high support towers symbolise the 12 hours on a clock, which pays homage to GMT (Greenwich Mean Time) as it resides on the Greenwich Peninsula, close to the famous Royal Observatory of Greenwich.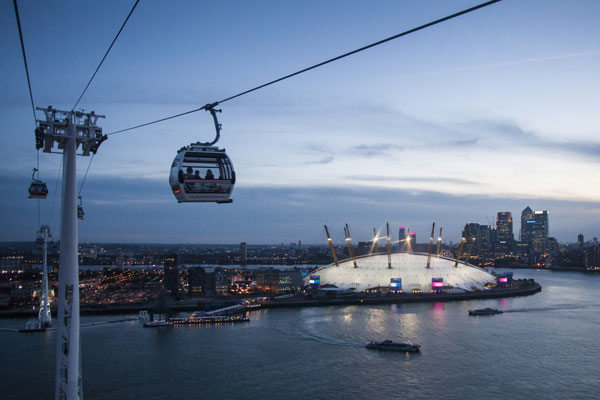 How to get to The O2?
Luckily, The O2 has a train station quite literally on its doorstep and is easily reachable from the c2c route. North Greenwich Station is located on the Jubilee Line in Zones 2 & 3, so whether you're coming from London or further afield in Essex, make your way to West Ham Station to change for the Jubilee Line – approximately 10 minutes from Fenchurch Street and 45 minutes from Southend Central. West Ham to North Greenwich is roughly 5 minutes.
An Off-Peak Return ticket from Southend Central to West Ham costs approximately £11.50, and from Fenchurch Street Station to West Ham costs approximately £6.70.
For our cheapest Adult Off-Peak tickets, simply buy online three or more days in advance and save on your train fare. Kids also travel for £2 over the weekends. Check out our app and Smartcard for the quickest way to buy your tickets in advance and avoid ticket office queues.