There's nothing like an adventure by train for kids to enjoy when they're off school for the holidays. So if you're looking for affordable ways to keep the kids entertained and out of the house over this school holiday, then look no further. Here's our guide to the top school holiday activities in London, all accessible by train.
Make your money go further – try our Family Travelcard
Kids travel for just £2 (on weekdays and weekends) and adults get 25% off too. Plus also get a Zones 1-6 travelcard included for hopping on and off at all TfL stations. Try our family travelcard here.
Travelling from Southend to London? Get there from £12.70 return with our Online Advance fare, bought 3+ days in advance. Why not download our app and get the c2c Smartcard, to make your journey quicker and easier?
Mile End Climbing Wall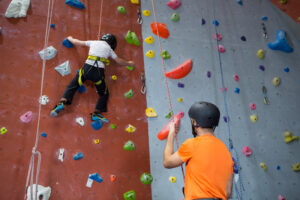 Plan your visit to Mile End Climbing Wall, where kids aged 7-17 can enjoy a fun-filled 1.5 hour rock-climbing session guided by engaging, highly-qualified instructors. Kids can try out their rope or bouldering methods while you relax on-site and watch them explore this exciting indoor adventure.
When? Open 7am – 10pm Mondays through Fridays & 9am – 8pm Saturdays and Sundays.
How much? From £7 for children, £10 concession and £14 for adults

How to get there? Take the train to Fenchurch Street, walk 5 minutes to Tower Hill and take the District line to Mile End, which is a short walk from Mile End Climbing Wall.
The Crystal Maze Live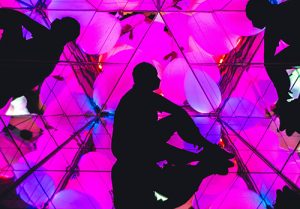 The live experience of the beloved 90's show, Crystal Maze, is back and bigger than ever. This stunning immersive experience will have the whole group working through tricky challenges. Work your way through 4 different zones, testing your skills and solving all of the puzzles and mysteries in your 75 minutes of frantic fun. Aimed towards the slightly older kids, with the 9 upwards age limit, this is the perfect family and friend experience during this school holiday.
When? Slots are available from 2:30pm – 9pm Tuesday and Wednesday, 9am – 9pm Thursday – Saturday and 9am – 6pm Sundays. Closed Mondays
How Much? Tickets cost from £53 per person with a family ticket.
How to get there? Take the c2c train to West Ham and change for Jubilee Line to Green Park. Then you will have a short 10-minute walk to Piccadilly Circus.
Go Ape Battersea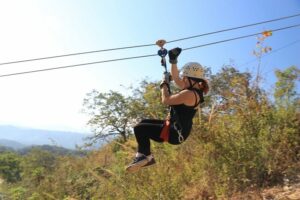 Look no further than Go Ape for a fun-filled family day out. The forest experience in Battersea Park boasts magnificent views of the big city as well as the gorgeous park. Thrillseekers will be blown away by their activities including a Nets Adventure, Treetop Challenge, zip-lining, buzzing playground and even a Pirate Ship! There's something for everyone at this amazing outdoor experience.
When? Open 10:00am to 5:15pm Tuesday – Friday and 9:00am – 5:15pm during weekends. Closed Mondays.
How much? Tickets from £23
How do I get there? Take the c2c train to Fenchurch Street, then the Circle/District Line to Sloane Square. Battersea Park is only a 10 minute taxi/bus ride away
Watch the Harry Potter and the Cursed Child play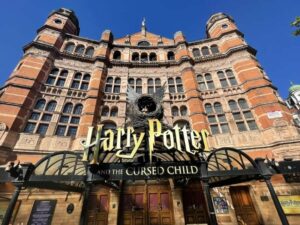 Discover the magic of the Wizarding World with Harry Potter and the Cursed Child, the award-winning play where we rejoin Harry, Ron, and Hermione as they're back on a thrilling adventure joined by a new generation of wizards. Enjoy the magic with the whole family. Recommended for children above the age of 10.
When? Plays are running until October 2023. Performance times are Wednesday, Friday and Saturdays: Part One – 2pm, Part Two – 7pm. Sundays: Part One – 1pm, Part Two – 6pm
How much? This is a two-part play, so ticket prices start from £15 bought separately or £30 for both parts together
How to get there? Take the c2c train to Fenchurch Street, and walk 10 minutes to Bank station. From there, you can take the Central line to Tottenham Court Road station which is a quick walk to the Palace Theatre.
Sea Life London Aquarium
Sea Life London aquarium is home to all kinds of sea creatures, including sharks, penguins, turtles, and octopuses. This School holiday, discover the various sea-themed zones such as Coral Kingdom, Rockpool Explorer, and the unbelievable Ocean Invaders– the largest interactive jellyfish adventure in the UK!
When? We'd recommend going online and booking a timeslot to avoid disappointment, check out opening hours here!
How much?
Adult tickets from £28, 3-15 years tickets from £25. Under 2s go free. You can also enjoy 2FOR1 entry to the aquarium with c2c! 
Save up to 40% on midweek tickets with their latest offer, the Midweek Madness sale!
How to get there? Take the c2c train to West Ham and change for Jubilee Line to Waterloo. Then just a very short walk round towards the London Eye.
Visit the Museum of London Docklands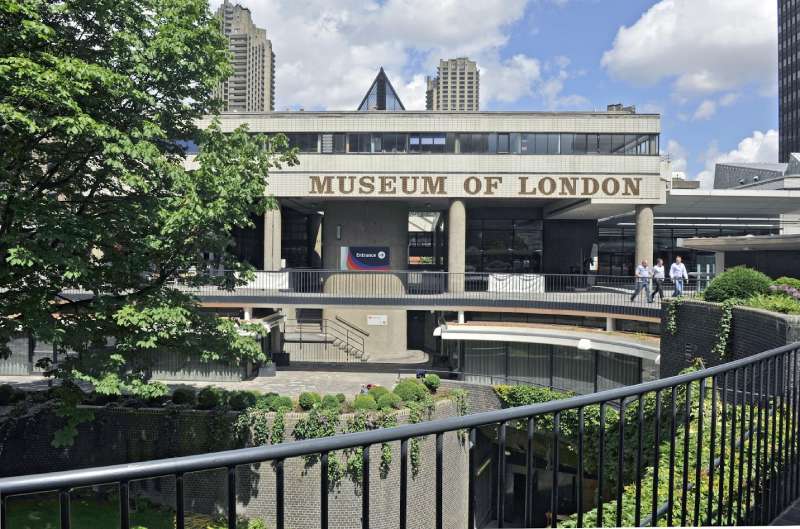 Learn about London through tours, exhibitions, interactive workshops and more for all ages. There's always something new to learn at the museum and it is a perfect school holiday trip out. This October half term, you and the little ones can enjoy a free Family Festival rich with culture, art installations and fashion-inspired thrills. Discover the latest experiences and events available here.
When? Opening times are 10am-5pm. Specific experiences can be booked on different dates; learn more about what's on at the Museum of London here
How much? General admission is free, and you can pre-book for free or get tickets at the door on the day
How to get there? Take the c2c train to Fenchurch Street, and walk 9 minutes to Tower Gateway station. From there, you can take the DLR to Westferry station which is a 7 minute walk to the Museum of London Docklands.
Explore the Bankside Detective Treasure Trail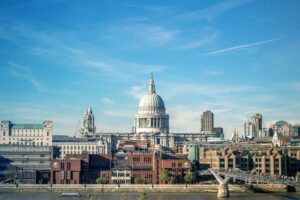 For a fun day out with  family and friends, why not discover popular London landmarks while playing a mystery-themed game of 'whodunnit' on a Treasure Trail? This self-guided detective tour lasts 1.5 hours and can be done at whichever pace suits you best, taking you through famous landmarks including Shakespeare's original Globe Theatre, Southwark Cathedral and the Millenium Bridge.
When? As the trail is self-guided, you can complete it at anytime once you've downloaded the map or received it in the post.
How much: £9.99 per person
How to get there? Take the train to Fenchurch Street and walk 17 minutes to the start of the trail at Tooley Street or get the bus to London Bridge station and walk 2 minutes.
Ride the Routemaster
If you and the kids are keen to see the amazing sights London has to offer during the school holidays, but maybe want the express version, then the Routemaster is the perfect way to do it. Enjoy the vantage point from the top deck of a 'proper British double-decker' and see the likes of Nelson's Column, Houses of Parliament, Westminster Abbey and St. Paul's Cathedral and more, in just over an hour.
How much does it cost? £1.75 for adults and children aged under 11 travel free.
How do I get there? Routes are available from the Liverpool Street to Fulham Town Hall areas and vice versa. c2c services are only available to/from Liverpool Street at weekends, otherwise walk from Fenchurch Street.
Natural History Museum
There's a reason this museum is known the world over. There are lots of amazing events and activities for the family and kids – find out what's on here. Even if you don't manage to attend any events, there's still so much to look at and learn you could still be there all day!
How much does it cost? FREE
How do I get there? Take the c2c train to West Ham and change for the District Line to South Kensington.
Make a free visit to Spitalfields City Farm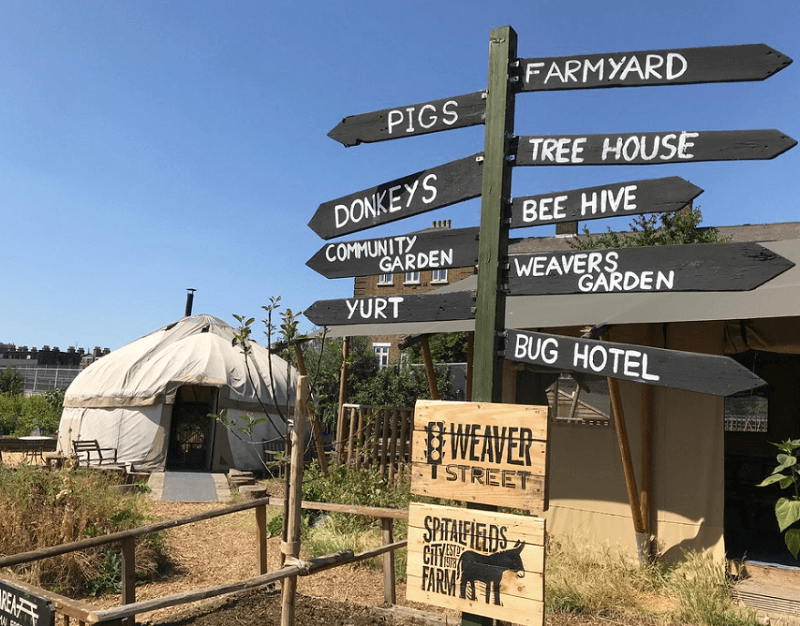 Spitalfields City Farm is a great way for visitors of all ages to connect with nature within the city, with all sorts of farm animals and green spaces. There are several fun activities coming up during these school holidays, including a "Needle Felted Sheep" workshop and open volunteering sessions for kids aged 10 and above! Check out all their buzzing upcoming events here.
When? The farmyard and gardens are closed on Mondays but open from 10am to 4pm Tuesday to Sunday, along with the farm shop and tea hut.
How much? A visit to the farm is free but you can donate as you wish through their website.

How to get there? Take the train to West Ham, and take the District line to Whitechapel station which is a quick walk to the Spitalfields City Farm.
Top deals on London attractions
Browse our amazing selection of 2FOR1 vouchers available at over 150 London attractions, galleries, bike tours, boat tours, restaurants and more. Getting your voucher is easy. Simply click the get voucher button on the page and you'll be directed to the days out guide website where you can download it directly. Then all you need to do is show it and your valid train ticket to the attraction when you arrive. Here are some of our favourites.