This quaintly petite Leigh-on-Sea based beach is a great little getaway from the far bigger and busier beaches along Leigh and Southend. Located near the famous cockle sheds of Leigh-on-Sea, this beach offers both a great seaside getaway with some fantastic local amenities on its doorstep.
Travel from London to South Essex return from £12.70 with our online advance tickets. You can now buy super off-peak tickets on c2c Smartcard, making your journey quicker and easier. Find out more about Smartcard.
What is there to see and do at Bell Wharf Beach?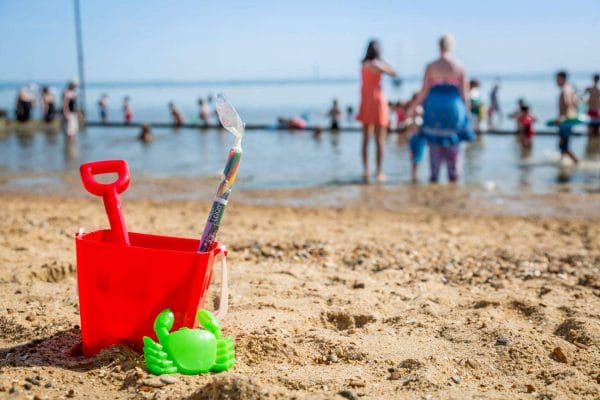 On your walk towards Bell Wharf Beach you'll pass the many fishing boats both docked and sailing through, making the walk there and view from the beach itself a more than pleasant one! Not only that, but the beach itself makes for a scenic sand stop with seaward views you'll find it hard to take your eyes off. The picturesque Leigh-on-Sea based beach is still a lot more calm and peaceful than its neighbours, making it the go-to South Eastern beach if you want somewhere a little less noisy.
A stone's throw away from the golden sands are plenty of cafes, pubs, restaurants and shops to keep everyone occupied. There are even some great locally-run places where you can stop by and taste the catch of the day. Some other great places worth popping into include The Peterboat, The Mayflower and Sara's Tea Garden, but there are many more hidden gems around the area to discover.
Also, if you're a dog-owning family, your canine companions are welcome on Bell Wharf Beach between 1st October and 30th April. Guide dogs are allowed all year round.
Is there parking near Bell Wharf Beach?
The Victoria Wharf Car Park is a paid surface car park near Bell Wharf Beach.
However, we recommend taking the train with c2c for the quickest and easiest journey out of Central London.
How to get to Bell Wharf Beach?
Take the train from London Fenchurch Street which will go direct through to Leigh-on-Sea. The journey time from London is around 44 minutes. There are approximately 6-8 trains per hour on a weekday, depending on peak or off-peak travel time.
You can find Bell Wharf Beach located a short 10 minute walk from Leigh-on-Sea station. Just walk past the Marina and continue down the seafront until you reach the beach.
Whether you're travelling in a group or have the kids with you, explore our great value ticket offers to make sure you get the best deal for you.