Nothing connects you to the people, places and things you love like rail. But we don't want you to take our word for it, which is why we've teamed up with our colleagues across the industry to bring you The Great British Rail Sale.
Enjoy over 1 million discounted moments with up to 50% discount on Off-Peak Return tickets*, an example of some journeys below:
Fenchurch Street – Southend Central: £10.00
Barking – Leigh-on-Sea: £7.70
Basildon – West Ham: £6.90
Benfleet – Fenchurch: £9.50
Book your journey between 19th April and 2nd May for travel between 25th April and 27th May and let someone else do the driving for a change. You can book your tickets at c2c-online.co.uk or through the c2c Train Travel App. Let's get back on track.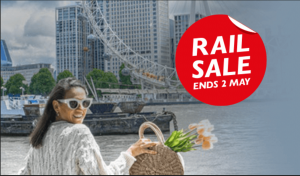 Terms & Conditions
Great British Rail Sale ticket fares are subject to availability and exclusions.
Book between 10.00 on 19/04/22 and 23.59 on 02/05/22 for travel between 25/04/22 and 27/05/22.
Tickets must be purchased a minimum of one day in advance of the date of travel.
Promotional tickets are not available on all routes
National Rail conditions of travel and Off Peak ticket terms apply
Customers will only be able to buy point to point c2c tickets on the c2c website or app. If customers are looking to buy tickets for other train companies they should go to the GBRS microsite
This is an online only sale, please contact our customer relations team if you require assistance or have a specific accessibility requirement
Discount applies to c2c journeys only. If you're looking to buy tickets from other train companies visit https://greatbritishrailsale.nationalrail.co.uk/
For full Terms & Conditions, visit https://greatbritishrailsale.nationalrail.co.uk/