Rail firm c2c appoints new Head of Safety & Environment
[13 March 2023] We are pleased to announce that we have appointed Stuart Browning as our new Head of Safety and Environment further reinforcing our commitment to ensuring that everyone working and travelling on the c2c network comes to no harm.
Browning joins from rail operator Govia Thameslink Railway, where he was most recently Head of Operational Improvement for their Thameslink and Great Northern brands. Prior to this he was at Great Western Railway, as Head of Operations Interface. He has also held various operational safety and performance improvement roles at Network Rail during his 20 year career in the industry.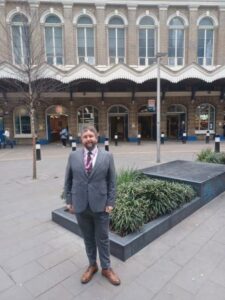 Rob Mullen, Managing Director of c2c, said, "Safety is at the heart of everything we do at c2c and I am absolutely delighted that we've appointed Stuart to this crucial role. With extensive industry experience, he brings a firm focus and can-do attitude to a train operating company that sets the highest standards for safety and reliability."
Stuart said: "I'm so excited to be joining Trenitalia c2c at a time of great change in the UK rail industry, where we have an opportunity to further improve our safety culture and take the business to new levels of safety performance.
"I'm looking forward to building and delivering a cohesive safety and environment strategy with the Trenitalia c2c team that will ensure we attract passengers back to a safe and reliable railway.
"Trenitalia c2c has a great reputation in the industry and I feel privileged to have been given the opportunity to work with the team on building on those strong foundations" he added.
Following a recent restructure, which saw Abu Siddeeq join the business as Customer Experience Director, c2c has also combined its Operational and Engineering team experience and expertise with Delivery Director Laura McEwen moving into a new role as Operations and Engineering Director.