c2c commemorates local railwaymen of the First World War
We have commemorated the forthcoming centenary of Armistice Day by naming a train after the 88 local railwaymen who died in World War One.
Chelsea Pensioner James Little was joined by Leigh-on-Sea schoolgirl Rosalia Folley and c2c Managing Director Julian Drury at Fenchurch Street station to celebrate the occasion at a train-naming ceremony.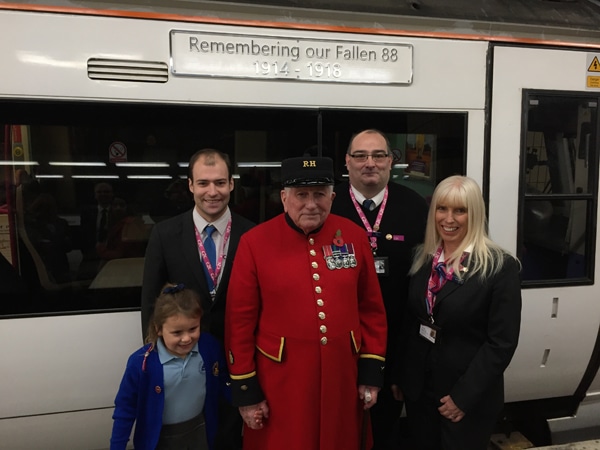 Julian Drury said: "Until today there has been no local memorial to the local railwaymen who died in the First World War but one hundred years later, we're providing a permanent local reminder of their bravery.
"So much has changed in the intervening century but something that has stayed constant throughout is the respect that we in the railway industry hold for our fellow railway workers from previous generations – and particularly for our Fallen 88."
The plaque: Remembering the Fallen 88 refers to the number of men who worked for the London, Tilbury and Southend section of the Midland Railway, as the local train service was then known, who died during the First World War. A list of the fallen railwaymen can be found in a memorial on our website. It lists both their military rank and unit, and their railway job and place of work.
The train also features a special poppy vinyl designed by Rosalia Folley from Leigh North primary school. The vinyl is part of a competition for schools who have adopted c2c stations along the route. The schools were asked to design a poster to commemorate Remembrance Day and Rosalia's winning design features red poppies on a green background and a silhouette of a soldier kneeling down at a cross.
Rosalia, age seven, said: "I'm very proud to have won the competition and for my drawing to be on the side of the train. It's very exciting to see my picture on the side of a c2c train."
Chelsea Pensioner James Little, who is joined us today to help us commemorate our former comrades, has a lifetime of experience in engineering and served 25 years in the Royal Engineers in Cyprus, Aden and the Pacific.
James said: "I came here to unveil the plaque to remember the 88 employees who used to work on the LTS railway. These guys who fought in the war were ordinary Joes just like you and me. They answered the call to arms, they went out and experienced some of the most horrendous scenes possible. Today was unique and rather special."
c2c will be offering free travel for all veterans and service personnel on Remembrance Sunday.