c2c celebrates its local community heroes
South Essex train operator c2c has recognised the efforts its community has made during the coronavirus crisis with a Local Heroes awards scheme.
Managing Director Ben Ackroyd said: "We really wanted to honour our local c2c community who have gone above and beyond during the coronavirus pandemic. We received many stories of local people coming together and helping others within the East London and South Essex community.
"It's truly heartening to see the wonderful sense of community displayed along our route and I am sure we all feel a sense of pride in all how people have come together to help those who were and still are in need of help during the current crisis."
c2c asked its commuters during the summer to nominate the people who had gone the extra mile to help their neighbours and the local community. Five winners were picked from the inspiring nominations and were presented with a c2c Local Heroes trophy.
Here are their stories:
Mark Penn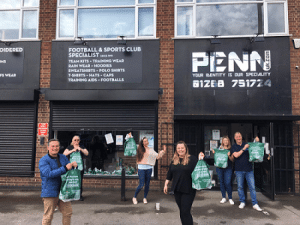 Natalie Walker nominated Mark for his instrumental role in setting up Benfleet Community Helpers, which saw him turn his shop into a warehouse and distribution hub. The group reacted quickly to ensure nobody in the local area went without essential food, toiletries or medication and they even have a "corona phone" for people to call for whatever they need help with. Natalie said: "Mark has a solid team of volunteers working with him. The group is incredible and deserves this award!"
When Mark was told that he was one of c2c's Local Heroes, he said: "Benfleet Community Helpers was set up to help the elderly and vulnerable and our intention was to essentially provide food care packs for these people, build community spirit and put smiles on people's faces. I can certainly say we have achieved all of that, which makes each and every one of us very proud."
Adam White
Adam, who coaches the Westcliff Rugby Lion Cubs, was nominated by Tim Hobden who told us that Adam had hosted a weekly Facebook Live coaching session for up to 20 families in place of the club's Saturday morning training. Tim said "The ability to keep that enthusiasm going, come up with new ideas and encourage youngsters – aged anything from two to five years old – to get some exercise and have fun is remarkable. It's kept my twins busy on a Saturday and, while it seems like a small thing, is a familiar face that they look forward to seeing."
Alexandra Waite
Alexandra was nominated by Alrita Hyre who told us that despite having four children, Alexandra still finds time to go out and deliver food to the vulnerable. She also runs a Facebook page called "Get the Kids Out", which is a charity that helps out low-income families who couldn't otherwise afford trips out with their children. Alrita said: "She's unstoppable! She's so generous and thoughtful and goes out of her way to help those in need."
Sky Butcher
Tracey Robson told us about Sky's hard work feeding the homeless in Basildon throughout the crisis. She and her husband Ralph prepare hot food day and night and deliver it to the homeless in the local area. Tracey said: "Sky is an outstanding individual who really deserves some recognition for the selfless hard work that she does."
Sky was delighted with her award, saying: "Myself and my husband have been feeding the homeless every day during the crisis. It's been very tiring but they need us more than ever now. We give out hot ready meals, drinks, clothes, shoes and toiletries. We've also been doing food parcels for the needy who've struggled over the last few months."
Alison Millin and Elwood
Martin Hayhurst nominated Alison & Elwood (a stuffed bear), for managing to keep most of Thundersley entertained for 100 consecutive days of lockdown with exploits in the Thundersley Facebook Group. Martin said: "Alison and Elwood kept everyone in the village amused during the worst of lockdown, with a daily tableau on her garden wall involving Elwood and his various friends. The posts were extremely popular, making the page a place to visit every day for many people."
This nomination was seconded by another user, who said: "I used to live in Thundersley but now live many miles away, and through the power of Facebook was able to enjoy Elwood's adventures too. Through them I felt part of a community which I left many years ago."
When she was told that she'd been chosen as a Local Hero, Alison said: "[Elwood's antics] seemed to bring a lot of joy to people and it was wonderful to be part of the outpouring of kindness in the community. Elwood can still be seen on the wall on occasion because kindness shouldn't ever cease."