An apology for disruption – Wednesday 17 and Thursday 18 May
[18 May 2023] We would like to apologise to customers caught up in the ongoing disruption on the c2c network over the last 24 hours.
What happened?
Yesterday, at approximately 12.30pm a lorry struck the overhead lines at the Fobbing level crossing. The damage is so extensive, no services are currently able to run between Stanford-Le-Hope and Pitsea.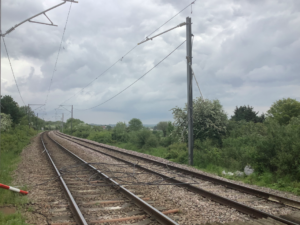 Network Rail immediately dispatched a team of engineers to the area yesterday who have worked overnight to repair the power lines but due to the severity of the damage the disruption has continued in today's train service. Our British Transport Police colleagues are also liaising with the Highways team to ensure the local area is kept safe as this work takes place.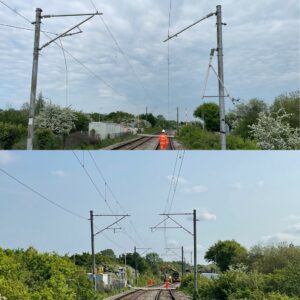 Arrangements were made for c2c tickets to be accepted on Greater Anglia, London Underground and local bus services to help provide alternative options for travel.
Rob Mullen, Managing Director of c2c said: "We are really sorry to all of our customers who have been caught up in the disruption on the c2c route in the last 24hrs.
"We know this will have caused extensive delays to your journeys and our Network Rail and c2c colleagues are working hard to get our services up and running as quickly as possible.
"Unfortunately, due to the severity of the damage to the power lines we don't expect a full service to resume on this part of the c2c route until tomorrow morning. We will keep our customers updated via our website and social media channels."
Simon Milburn, Infrastructure Director at Network Rail, said "We'd like to apologise to passengers caught up in the ongoing disruption. This incident did serious damage to our infrastructure. Coming into contact with 25,000V overhead lines is extremely dangerous and I urge road users to take care when using level crossings, including checking the height of their vehicles."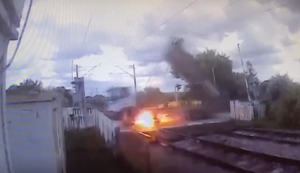 More information on how the overhead lines support our infrastructure can be viewed here.
Compensation for delays
If you were delayed you will be eligible for compensation for your journey. Find out more about the compensation we offer, and how to claim, here.
c2c smartcard users: You will receive automatic compensation provided you tapped your Smartcard at both the start and end of your journey. If you were not able to do so, you will have to make a manual claim for your delay. This is because our system will not have full information about your journey, so cannot calculate your automatic compensation. We recommend you check your online account to ensure our automatic payments do reflect your actual delay. If you feel they do not, you can use your online account to correct the automatic system or alternatively

submit a manual claim

.
Paper ticket holders, Oyster and contactless card users: Please fill out your details on this online delay repay form.