From fresh food to flower markets, vintage fashion to wholesale – London's markets are buzzing. The great news is many of the best are right on the doorstep of our Fenchurch Street terminus station making it very easy to hop off the train and explore.
Get the train from Southend to Central London for £12.70 return with our online advance fare. Or if you're travelling in a group, nab the best savings with our GroupSave offer. Check out all our fare offers here. Download our app and order a Smartcard for the quickest way to buy your tickets in advance and avoid ticket office queues.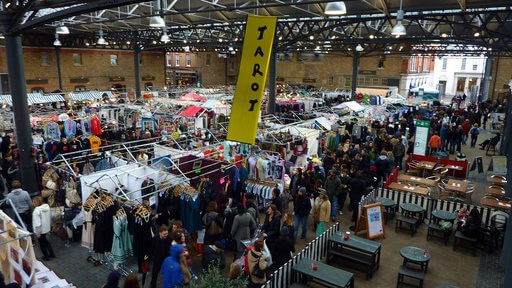 Back in the 1960s Spitalfields enjoyed a heyday as a fruits and veg market. These days it's enjoying a revival as one of London's trendiest crafts, fashion and food markets. Perfect for browsing, you might find a vintage-style hat, cutting-edge jewellery, kitchen bric-a-brac, African textiles or a dusty old tome depending on who's selling that day.
Old Spitalfields Market, Spitalfields, London E1 6EW (15 minute walk from Fenchurch Street station)
Head on over to Hackney's hip Broadway Market to experience an eclectic mix of goods from local farmers, artists and craftspeople. Roam the stalls to hunt out delicious ingredients, home-cooked snacks and unique and unusual clothes. It's also a great place to pick up unique gifts for your friends.
Broadway Market, London E8 4QJ (45 minute walk from Fenchurch Street or Limehouse stations)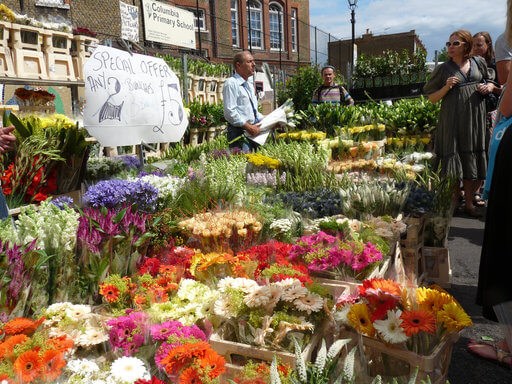 During the week it's just another east London street, albeit filled with sixty independent shops, galleries and cafes, but between 8am – 3pm on a Sunday, come rain or come shine, every plant known to humankind seems to make its way to Columbia Road, waiting for a new home.
Columbia Road Flower Market, Columbia Rd, London E2 7RG (30 minute walk from Fenchurch Street station)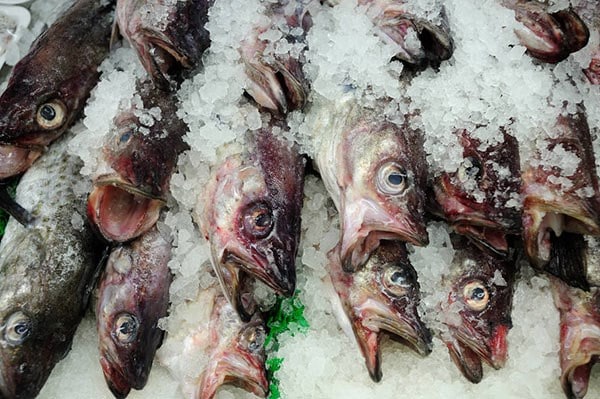 You'll have to be an early bird to experience the best of this one, as it opens at 4am Tuesday-Saturdays. This is the place to come to watch traders at work and witness gigantic whole fish, sardine-tight boxes of littl'uns, tubs of eels and more ice than Alaska. Even if you're not buying, the bustle and banter of Billingsgate is legendary.
Trafalgar Way, Poplar, London E14 5S (30 minute walk from Limehouse station)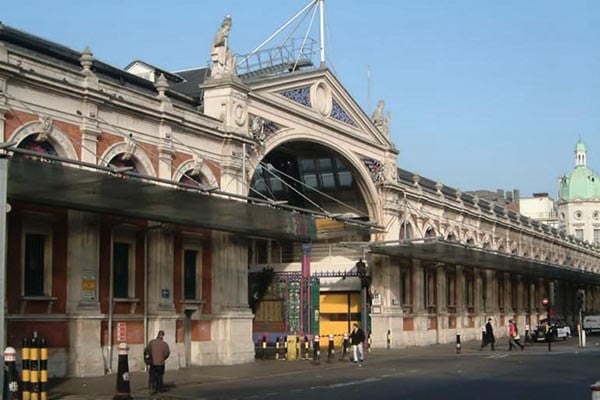 If you think Billingsgate opens early, spare a thought for the porters plying their trade under the magnificent Victorian wrought ironwork of Smithfield Meat Market. This market requires a full night shift, being open from midnight to 7am Monday-Sunday. If you're willing to make a late night or early morning trip, you'll find some of the highest-quality meat out there.
Smithfield Market, London EC1A 9LH (25 minute walk from Fenchurch Street)
Petticoat Lane Market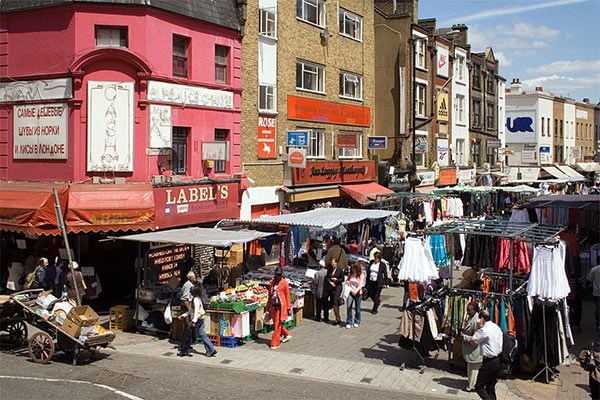 It has been claimed that in days gone by traders on Petticoat Lane would steal your petticoat at one end of the market and sell it back to you at the other. Nowadays it's got a much better rep and is a fun place to find genuine bargains amongst the clutter of clothes, bric-a-brac, and pots and pans. They do still sell the odd petticoat, though it will almost certainly not be your own…
Petticoat Lane Market – Between Middlesex and Goulston Streets, E1 7HT (10 minute walk from Fenchurch Street)
Once the home of junk, tat and more junk, the Sunday market has now added arty T-shirts, vintage clothing, fashion-college chic, kitsch collectibles, records, retro homewares and pretty much anything else you can imagine. Wander into nearby Dray Walk too and take a look at the funky new shops that seem to pop up and then disappear on an almost daily basis.
Brick Lane Market, E1 (25 minute walk from Fenchurch Street)
Leather Lane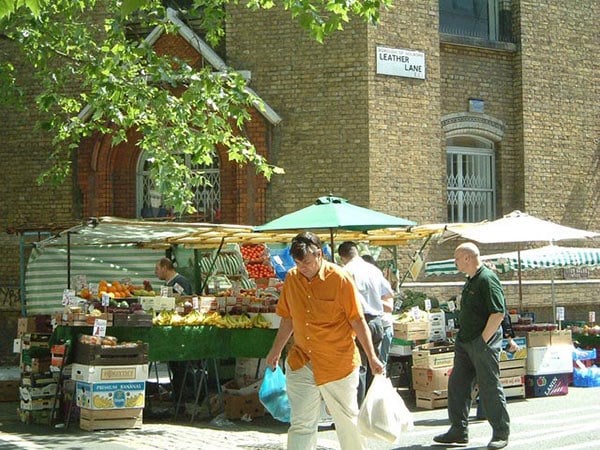 Oddly, 300-year old Leather Lane Market has nothing to do with the leather trade – the name comes from a local merchant centuries ago called Le Vrunelane. Running between Chancery Lane and Clerkenwell Road between 10am and 4pm Monday to Friday, this weekday market wields a wide array of produce from fruit and veg to well, leather goods.
Leather Lane, EC4 (30 minute walk from Fenchurch Street)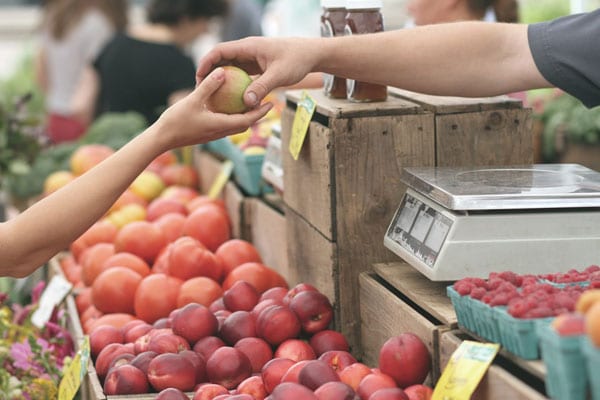 Since Clerkenwell became one of the trendiest places in London, Exmouth Market has gone upmarket. The semi-pedestrianised street used to be a traditional general street market but with the coming of gourmet shops, cafes and restaurants you'll find designer jewellery and gifts rubbing shoulders with good old-fashioned stalls selling plastic buckets and mobile phone accessories.
Exmouth Market, London EC1R 4QL, Monday to Saturday daytime (40 minute walk from Fenchurch Street)
London's best food markets
London's food scene is bursting with options to get your taste buds tingling, and new discoveries are sprouting up all over the place. So whether you know what you're after, or if you want to be taken by surprise, here's our list of London's best food markets.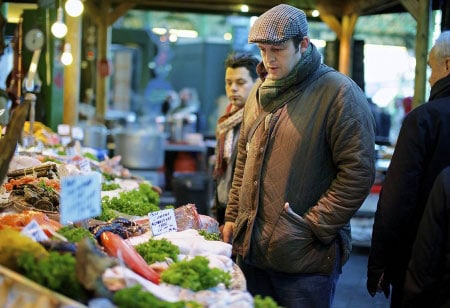 A scenic stroll across the river from Liverpool Street and Fenchurch Street stations, Borough Market is one of the most famous gourmet food markets in Britain. From exceptional cuts of meat and fish through to organic vegetables, pies, pastries, preserves and all manner of novelties, you will not be left hungry here.
Borough Market, Borough High Street SE1 1TL (20 minute walk from Fenchurch Street)
Pop, Brixton
You wouldn't think there's much you can do with shipping containers, but some inspired individuals had other ideas in 2015. The market started as a community project with discounted rates for local food start-ups and artists, and now it's a brilliant addition to Brixton's ever-growing food scene.
Sit among the fairy lights and trees growing from barrels as you tuck into food from Japan, Italy, the Caribbean, Lebanon and many more. There's something for every taste! Pop is open from 9am-11pm every day and stays open until midnight on Friday and Saturday.
49 Brixton Station road, SW9 8PQ (Get off at our West Ham station, take the Jubilee line to Green Park, then the Victoria line to Brixton)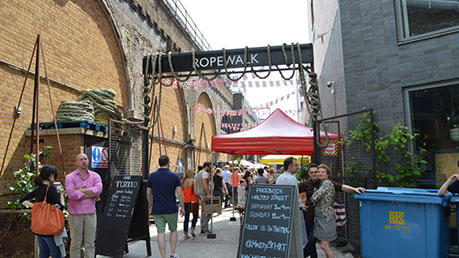 If the sprawling reach of Borough Market is too much, then head to the smaller Maltby Market. It boasts a glorious array of artisan producers, and with everything from sourdough to African street food, you'll definitely be full after a visit. Street food traders are there on Saturdays 10am-5pm and Sundays 11am-4pm.
Arch 46, Ropewalk, SE1 3PA (20 minute walk from Fenchurch Street station)
In Lewisham you'll find this award-winning food market. Brockley Market offers seasonal fare from local producers, including meat, fish, fresh fruit and veg and pastries. You're bound to find something for all tastes here. The market is held every Saturday from 10am – 2pm.
Lewisham College Car Park, Lewisham Way, Brockley, SE4 1UT (DLR from Limehouse station to Elverson Road, then a 10 minute walk)