Meet Trina and Andrea Barclay
The dynamic duo driving trains for c2c
To celebrate International Women's Day, we spoke to two of our most recognised members of the driving team, Trina and Andrea about driving trains and life at c2c.
Trina has been a driver for 20 years and Andrea is now an Operations Training Manager. We met them for a coffee and they told us what they love about their work – aside from that they really (really) love driving trains.
We meet Andrea and Trina in the office after a day on the trains. They both have a wicked sense of humour and hearty, thoroughly infectious laughs. Trina has just finished an early shift and we talk about the challenges of the 2am alarm clock. "It's the hardest part of the job" she tells us. In fact, in the whole time that we talk (which is a while, because 20 years of train stories take time to tell), it's the only genuinely negative thing that she can find to say about a job that she's done for so long. And, in typically jolly 'driver banter', she's not complaining. It's "just a bit of a drag now, as you get older" she says, then adds, "But it doesn't spoil the good points. When you get to work it's fine." Cue more laughs, more banter.
Trina applied to be a driver on a friend's' recommendation after years of self-confessed indifference towards jobs that hadn't really inspired her. "Once you're on the railway, you'll never leave" she was told. And 20 years later, she's proof. "I thought, ah, I'll give it a year" she laughs, adding "But I love it. It's like a little family here, because it's a small railway. We are a family really."
Ironically, despite her almost accidental move into the railway, Trina had always loved trains – even from being a tiny tot. When asked if she'd always wanted to be a train driver she laughs, "Apparently so. My mum said when I was a toddler I used to tell everyone I was going to be a train driver." Aside from playing with her Uncle's Hornby rail sets, "with real points", she can't remember that early childhood fascination – although she feels it was probably fate that got her here in the end (and her excellent driving skills!).
Driving skills, of course, as a woman, fit somewhere between 'driver banter' – which crops up with regularity throughout our conversation – and the challenges of being a woman train driver. Andrea joins the conversation at this point to discuss the banter, sharing some of her one-line retorts for the drunken comments and outdated opinions directed at her over the years.
Like Trina, Andrea was also a late-comer to the railway; however she'd had no childhood ambitions. "Never did I ever think that I would be driving trains. I just fell into the job. I needed a job and applied… And I wasn't expecting it really." She's clearly well suited, having just been promoted to Driver Training Manager. During our chat people pop in and out of the office to congratulate her – the family in action.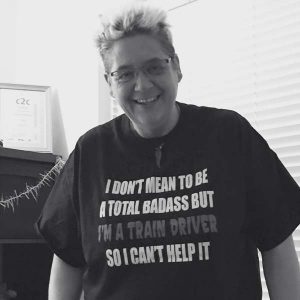 Discussing International Women's Day and the challenges of being a woman on the railway, Trina and Andrea both concur (and are living proof) that, "Being a woman is great on the railway. We have a great time. There's so many funny little things and stories that go on."
Some of these stories are bizarre: "People wander on the tracks. I've had a horse chewing grass, just staring up at me" says Trina. Andrea recalls a day when, "There was a cow on the line between Leigh and Benfleet, then a drunk bloke was walking around the track. And then the train doors wouldn't shut. I think the signaller thought I was making it all up." There are of course, more sombre days, too. "There have been memorable days for all the wrong reasons, which aren't nice, but they happen". We briefly discuss the tougher aspects of the job, but thankfully they are few and far between. And 'the family' always rallies round.
We lighten the tone, returning to the aforementioned one-liners. Unsurprisingly, after their collective 30 years, they seem to see them as a challenge for that railway banter they love. Aside from the decision of one man not to travel on her train, it's usually 'just' shouts and jeers – particularly from drunk people. One of the most common questions is "'Are you alright driving that train, love?' Now I just open the cab door and say, 'Oh no, where's the steering wheel?'" laughs Andrea. Trina joins in. "Sometimes they shout, 'Are you the driver?' or 'What's in your flask then?' I reply with 'Vodka'" she adds. "Always makes women laugh, that one".
Laughter is a constant in the presence of these two formidable characters. Their contagious humour has us all engaging in (more) banter and we get onto the subject of their 2014 wedding – they met and married through the railway. "We had such fun. It was a Steampunk themed wedding; it was incredible". Trina remembers. Again, as is the pattern of our meeting, talk returns again to their team, "Everyone at work got really into it and dressed up. I've never met such a lovable bunch." Andrea adds.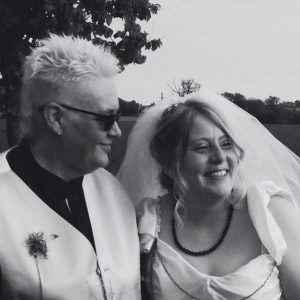 After chat about weddings, life on the railway, the perils of being a woman driver in between stations (makes loo-stops slightly tricker!), we conclude our meeting.
Before asking, I already know the answer to my final question, but ask it anyway: would they recommend train driving to women at C2C? Without hesitation they both say yes and launch into what could be an unbelievable few sentences, had I not got to know them and found them so genuinely happy in their jobs. "We need more women" says Andrea. "It's a perception thing. People don't see us really, but we're here. We have 197 train drivers, 10 are women. So yes, definitely. It's flexible, it's fun. I love it."
The single best part of the job is driving trains, they both agree. "Seeing new people get their licences; I'm proud to train people and pass on the knowledge." adds Andrea. "I'm a manager now, but I'd honestly love to drive more. That view, after leaving Chalkwell, going to Leigh on Sea…"
Andrea's favourite view from the train: