Resolving disruption caused by sunlight
What is the issue?
Our train drivers must ensure the platform is clear and it is safe for the train to move before they depart the station. To do this, they use platform cameras and monitors.
As c2c is an east-west railway, the sun can cause visibility problems for train drivers in the early morning and the late evening – particularly during spring and autumn, when the sun is typically lower in the sky.
The most common issue this causes is the bright sunlight obscuring visibility of either the platform cameras or platform monitors.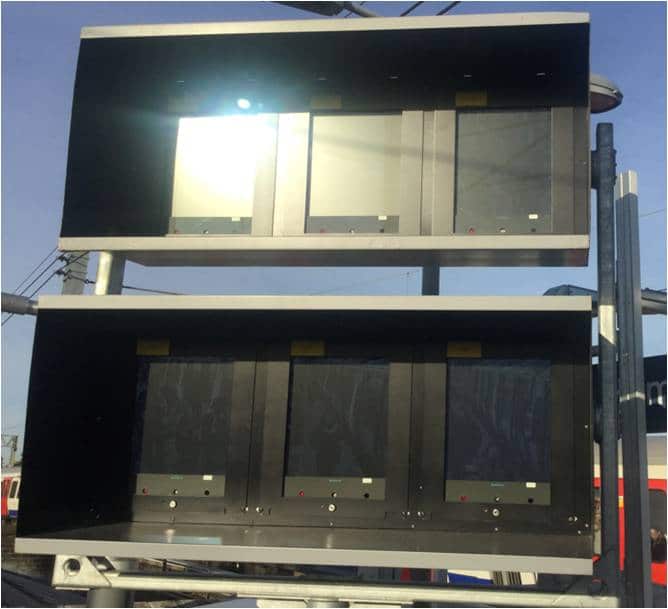 When their visibility is impaired by glare from sunlight, drivers need to take alternative approaches to satisfy themselves that it is safe for the train to move off. This may mean they have to walk back the length of the train (up to 240m) to check it is safe to depart, before they return to their cab.
This is the right approach for safety reasons, but it can cause a few minutes of delay to that train and to others behind.
What is the impact?
c2c services operate at maximum capacity at peak times, with trains running every three minutes on a single line of track in the section between Barking and Fenchurch Street. This means delays to just one service of a few minutes in the peak can multiply into knock-on delays to many other trains.
When this is the case, we will take proactive action to reduce the delay to customers where possible. This can include terminating a service early or skipping individual stations, so that this creates enough empty space on the tracks to give all other trains the opportunity to catch up and reduce their delays.
This is not a decision we take lightly, but we will act when we can reduce the overall delays for all our customers.
We fully understand how annoying it is to those customers onboard the amended trains whose journeys are affected, and we are sorry to cause them this disruption. However it remains the right decision to take because it benefits the remainder of c2c's passengers – up to 40,000 people at peak times.
Any train that is terminated early or misses a single stop on its planned journey automatically fails our punctuality stats.
What are we doing about it?
We have already taken steps to reduce the likelihood of sunlight issues causing the original delays which then lead to wider disruption. We have upgraded our platform equipment at many key stations to the latest technology, with new cameras which are less susceptible to sunlight interference and new monitor screens which are 70% clearer in direct sunlight.
We are also training more staff so they are safety accredited to support drivers by dispatching trains from the platform, and we will be making a £1m+ investment in additional platform cameras to provide our drivers with more viewing angles, which will reduce the impact of one camera being obscured by sunlight.
These steps should all help to reduce the likelihood of your services being delayed by sunlight issues in the future.
If your journey has been delayed because of this issue or any other, you may be eligible for compensation. Find out more and make a claim here