Refunds during Industrial Action
This information is for customers that bought their train tickets directly from the c2c website, c2c Train Travel App or a c2c ticket office or Ticket Machine. If you bought your train ticket from a different retailer then you will need to contact them for your refund. Please note that this page is for refunds on tickets where customers are yet to travel or did not travel. If you were delayed on your journey please submit a claim for Delay Repay here.
Please note that an Admin Fee of £10 may be charged on Daily ticket refunds and that an Admin Fee of £10 will be charged on all season ticket refunds, including Flexi Season tickets.
Tickets bought on the c2c website or c2c Train Travel App
The quickest way to request a refund is via our online refund form here.
We will need two photos of your ticket from you to process your refund. The first is of your ticket in its current condition and a second photo, as per the guidelines below:
Write the refund reason in a blue or black pen across your ticket (please keep the sort reference number visible as we need this to process your refund). The refund reasons are listed below:
Unused (Change in travel arrangements or unable to travel)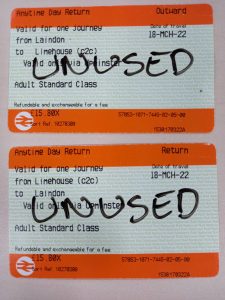 Disruption (Journey abandoned due to disruption)
Please then cut your ticket in half with a pair of scissors, diagonally from bottom right to top left.
Place the two pieces slightly apart on a blank background and take a photo.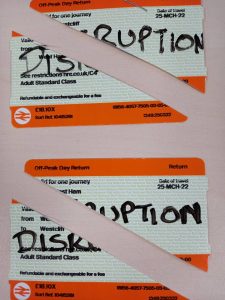 Ensure the file size is 1MB or less, you may experience issue submitting the form if the file size is larger.
We are only able to accept JPG, PNG, or PDF file types.
Please retain your ticket for 90 days after submitting as we may require you to post in for auditing purposes.
If you did not collect your tickets please include a screenshot of your email confirmation.
Tickets bought at c2c stations
simply return it to the ticket office to ask for a refund, or collect a comments form from a ticket office and post to us along with your ticket or send to us with a covering letter addressed to:
c2c Customer Relations, FREEPOST ADM3968, Southend, SS1 1ZS
Smartcard tickets
For unused Smartcard tickets please use the online form here to claim for your refund.
Please include a picture of your smartcard clearly showing your smartcard number.
Season tickets
Please request a refund by filling out our online refund form here.
Please include a picture of the smartcard, and also if you have an Annual Season Ticket please include a picture of the paper Gold Record Card torn in two.
If you bought your Season Ticket directly from us, we can generally give you a refund if there is:
Seven days (or more) left on a Season Ticket valid between one and ten months.
Three days (or more) left on a weekly Season Ticket.
For an Annual Season Ticket, there may not be any monetary value left if it is surrendered in the last couple of months of validity. Annual Season tickets have no refund value after 10 months and 12 days, although they are still valid for travel until the expiry date and you can continue to enjoy any Gold Card benefits along with it.
These can be refunded at any time but may only be backdated with evidence that illness prevented you from travelling (National Rail Conditions of Travel, 40.4).
For 7-day season tickets and Flexi season tickets the refund is calculated by deducting the price of the anytime day return fare for each day you've travelled. If there are only 1 or 2 Flexi Season tickets remaining on your Flexi bundle, generally there will be no refund value remaining.
Please note a £10 admin fee is charged for all season ticket refunds.
Advance tickets
The rail industry has introduced a temporary amendment to Advance ticket terms & conditions to help customers gain confidence travelling by rail again. From Monday 21 June 2021 until 30 September 2022, Advance tickets can be surrendered back, fee-free, to the original retailer for an eVoucher or National Rail Travel Voucher, for use in purchasing a future ticket. Vouchers are valid for 12 months from the date of issue. To apply for a voucher exchange on your Advance Ticket, please email us with your full postal address at contact@c2crail.co.uk, attaching either a copy of your printed Advance Ticket, or if you haven't printed your ticket, please include your order reference number. Requests must be made, and can only be accepted, by 6pm the day before travel.