Local schoolchildren help c2c commemorate Remembrance Sunday
c2c will be offering free travel for service personnel on Remembrance Sunday and is also commemorating the event with a special train vinyl designed by children from a local primary school.
The special train vinyl is an annual competition for schools who have adopted c2c stations along the route. The schools were asked to design a poster to commemorate Remembrance Day and the winners were Year 1 pupils from Cherry Tree Primary School, Basildon whose striking design depicts poppies surrounded by the graves of fallen soldiers.
The children visited Fenchurch Street station this week to see their winning design that had been fitted to the doors of train 357018, which was officially named in 2018 as "Remembering our fallen 88 1914-1918" to commemorate the centenary of Armistice Day.
The schoolchildren also met c2c's MD Ben Ackroyd who joined the group at the official unveiling. Ben said: "It's been a real pleasure welcoming Cherry Tree school to Fenchurch Street station. Our annual poppy design competition is an important event in the c2c calendar and this year's standard was as high as ever. We are proud to show off their commemorative design onboard one of our trains."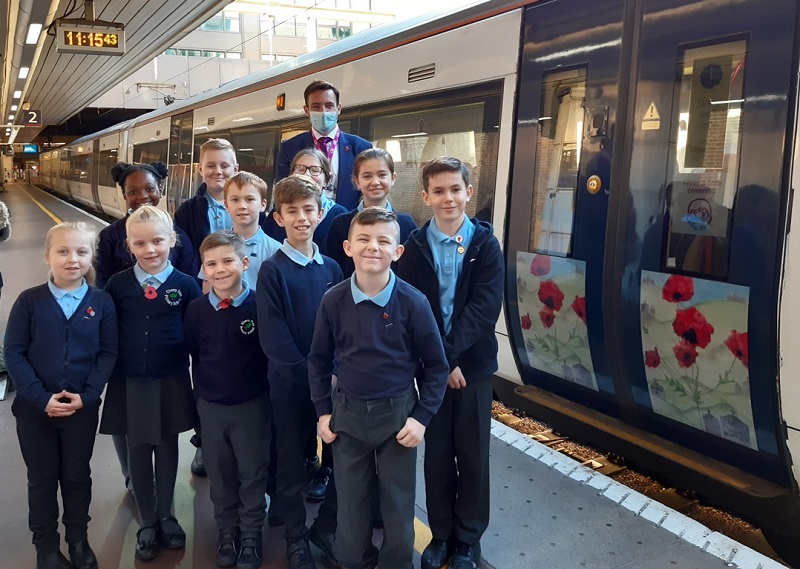 Pictured above: c2c MD Ben Ackroyd with children from Cherry Tree school, Basildon.
Cherry Tree school's Deputy Head Miss Barlow was also joined by their Headboy and Headgirl, who explained the Year 2 children had come up with the design themselves after learning about the two world wars in lessons. They painstakingly made up the poster with a combination of thumb printing and painting with brushes and sponges.
Miss Barlow said:­­ "The children have been so excited to see the c2c train with their design on the doors. This is a very proud moment for them and it looks absolutely brilliant close up. We've had a great time and this is certainly going to be a day to remember for both the teachers and children."
This year as we have done previously, c2c is offering free travel to service personnel travelling to the Cenotaph on Sunday. To qualify for free travel, current military personnel must show their military ID or be wearing uniform.