Hare sculpture hops onboard c2c train for official unveiling
We welcomed a very unusual visitor onboard one of our trains yesterday in the form of a giant hare sculpture.
The hare, named Leporum Fisher, hopped aboard at Southend Central for its trip for the official launch of Southend's Hares About Town art trail to raise funds for local charity Havens Hospices.
Leporum was designed by celebrated artist, the late Paul Karslake, and was unveiled to the public at Fenchurch Street Station by c2c's Managing Director Ben Ackroyd, the team at Havens Hospices and Paul's wife Sandra Karslake.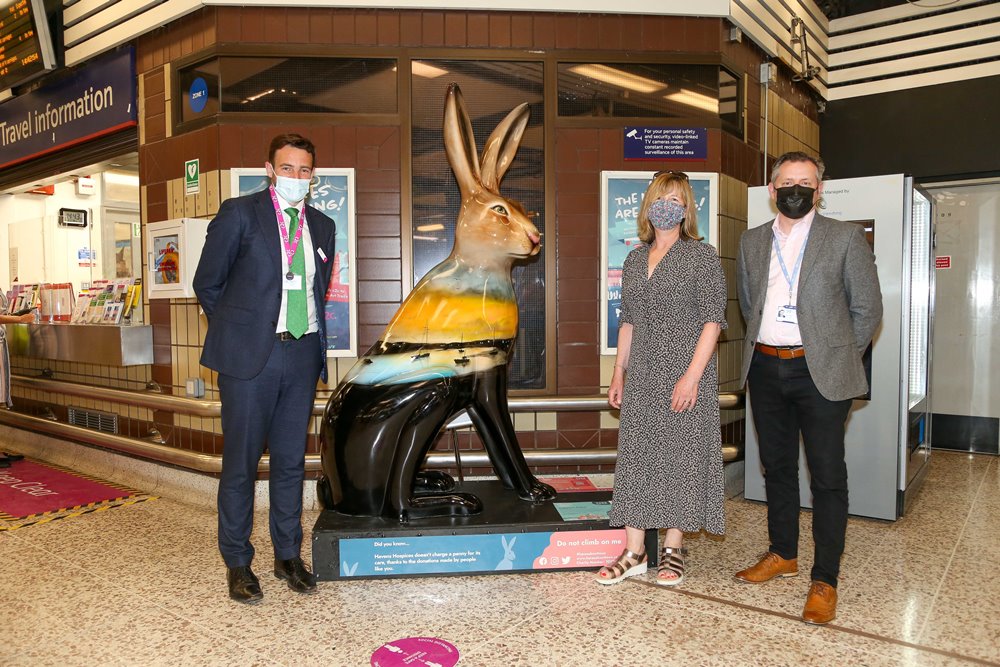 Pictured l-r: c2c MD Ben Ackroyd, Sandra Karslake and Havens Hospice CEO Steve Smith.
c2c Commercial Director, Clare McCaffrey, said: "We are delighted to be the presenting partner for Hares About Town in support of Havens Hospice. c2c is proud to be a long-standing supporter of their work within the Southend community and we are honored to have unveiled Leporum Fisher at Fenchurch Street station.
"We are looking forward to welcoming visitors on board our trains to visit the trail to enjoy some rather dashing hares. Look out for our specially designed Hares About Town trains too."
The hare sculptures, each one individually designed by an artist and sponsored by a business, will form a family-friendly trail across Southend during the summer months. Once the art trail has finished the hares will be auctioned to raise vital funds for Havens Hospices.
Leporum Fisher will now take his temporary residence at Fenchurch Street Station until 25  June, when he will return to join the other 29 other hares, for the launch of the trail on 1 July.