c2c supports local homeless charity HARP's Harvest Appeal at Southend Central station 
[17 October 2023] Trenitalia-owned train operator c2c is encouraging its customers to take part in this year's HARP Harvest Appeal by donating food to the homeless.
Southend's homeless charity HARP provides essential services and long-term solutions to support local people taking steps to overcome homelessness. Homelessness is a diverse and complex issue, and many that are homeless remain hidden; sofa surfing, sleeping rough away from danger, or living between places as and when the opportunity arises.
This year for the HARP Harvest Appeal the charity is asking everyone to get involved in the fight to end rough sleeping and help HARP residents and local homeless people.
c2c's Customer Delivery Manager, Leah Cable, pictured below, has set up a stand at Southend Central station with a box for staff and customers to donate non-perishable food and drink items to the charity. Leah said: "We have many homeless people in Southend high street, and we often use Streetlink to report homeless people who may need help to Southend Council.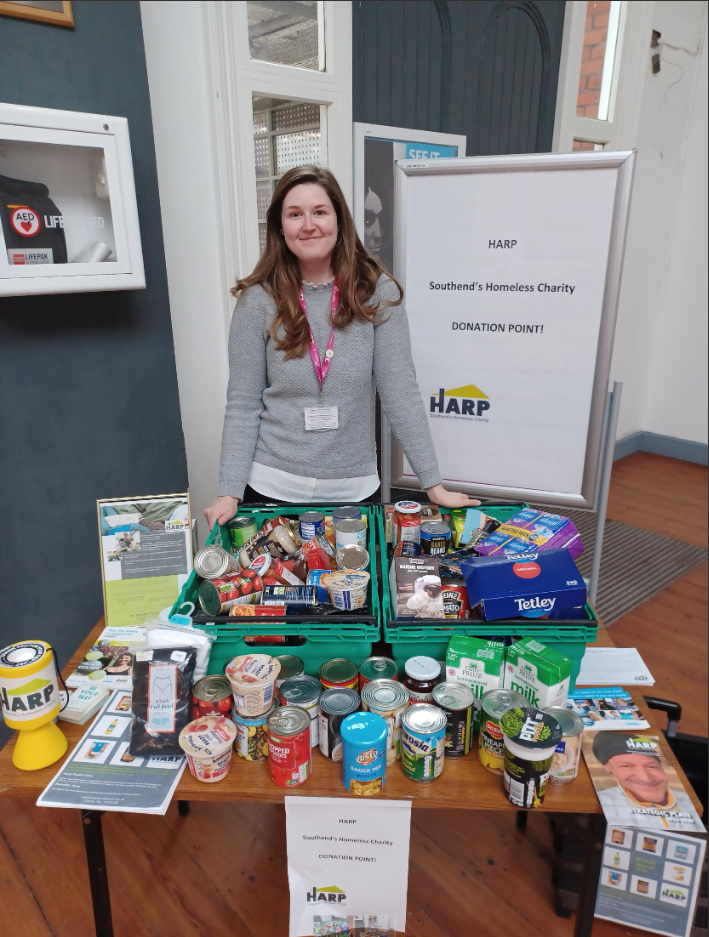 "We really wanted to help HARP's Harvest Appeal and have set up the donation point in the booking hall at Southend Central so staff and customers can donate non-perishable food items until the end of October. There's also a change donation pot and leaflets with information about how HARP works in our community," she added.
HARP's Community Fundraising Manager Lisa Walton, said: "At HARP, we aim to provide nutritious meals for our residents and guests which we cannot do without your support. Good nutrition is the cornerstone of a healthy lifestyle and a key building block in overcoming homelessness."
In previous years the charity has helped over 1,000 people take steps towards overcoming homelessness.