c2c supports Havens Hospice with Southend 'Herd in the City' art trail
[19 July 2023] Trenitalia-owned train operator c2c is delighted to be a main sponsor of Herd in the City, a spectacular public art event running in Southend this summer, with a number of prizes up for grabs for trail visitors.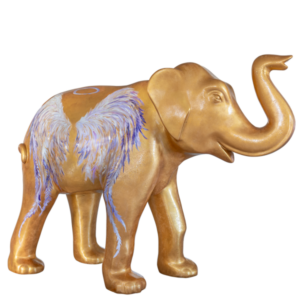 The public art exhibition, run in partnership with Wild in Art and local charity, Havens Hospice, took over the streets of Southend-on-Sea, Leigh-on-Sea and Shoeburyness on Friday 14 July and will remain at sites across the city throughout the summer, until Monday, 4 September 2023.
The art trail has more than 30 large elephant sculptures and over 70 baby elephant sculptures dotted around the City of Southend, including Shoeburyness and Leigh-on­ Sea, for locals and visitors to enjoy over the next eight weeks.
c2c's specially-selected sponsored elephant is called the 'Selphiephant' and will be in Southend, located by M&S on the High Street, with attendees encouraged to snap some pictures when they spot it. Inspired by the popular idea of winged murals, the 'Selfielephant' is a dual design that allows visitors to choose their winged selfie backdrop.
The artist behind c2c's elephant is Jason Curtis who, evolving from a lifelong career in engineering, is a versatile creative whose work ranges from exquisitely detailed bespoke leatherwork, through dramatic nautical painting and urban driftwood sculptures, to spirited cartoons that vividly capture his sense of humour.
The event's 3D Elephant sculptures were chosen because they depict many of the values of hospice care – they never forget, much like the families making treasured memories together and saying goodbye to loved ones at Havens Hospices, and they are sensitive, caring and nurturing, much like the Care Teams who work tirelessly, 'Making every day count' for the hospice's patients and families.
c2c's Interim Commercial Director, Steve Knights said: "We are delighted to support Havens Hospice in another collaboration with Wild in Art on this exciting sculpture trail in Southend-on-Sea. Not only is this a fantastic day out, but it is also aligned with a good cause, as the Little Havens Children's Hospice does so much to help children and families in the area we serve.
"I have enjoyed every minute, from picking our designs to working with local businesses to pushing people to trail and elevate the amazing work at Havens Hospices. If you haven't seen the trail, what are you waiting for? Book a train ticket to Southend Central and find c2c's elephant within the App to be in with a chance to win one of our great prizes," he added.
Customers can download the Herd in the City app from the Apple Store and the Play Store for £1.99.
There is also a competition for c2c customers available on the app, which encourages players to find and collect the elephant sculptures dotted around the city. Users need to enter a 4-digit code displayed on the sculpture plaques into the app. Each big sculpture can unlock one big reward.
Customers who download the app and take part in the competition, have the chance to win one of the following prizes from c2c:
4 Shrek's Adventure London (Merlin Entertainments)

A pair of tickets for Grease the Musical

A pair of tickets for Back to the Future the Musical

2 weeks of off-peak travel on the c2c network

A £10 Love to Shop Voucher
At the end of the exhibition the elephants will be auctioned raising vital funds for Havens Hospice.