c2c FD takes on first marathon in aid of children's cancer charity, Gold Geese  
[14 March 2023] Trenitalia c2c's Finance Director, Phil Leney (pictured below) is lacing up his running shoes in preparation for his first ever marathon at the London Marathon next month, in aid of Essex children's cancer charity, Gold Geese. 
The charity provides practical and emotional support to families of children and young people fighting cancer in the Southend and Basildon areas, with support ranging from funding for mental health therapy and food shop vouchers to toys, weekend trips away and practical help with travel to and from hospital.
Building on c2c's existing support for the charity – Gold Geese has a special 'wrapped' c2c train which has run on the London and south Essex route since September – the challenge started as a very personal one for Phil.
"I didn't really start running properly until around six months ago; after playing hockey at a decent level I suffered an injury and had to have knee surgery with a lengthy recovery period. After this I wanted to take on a physical – and mental – challenge. As well as dealing with surgery myself, the last few years have been challenging for people across the industry so I really wanted to commit to something positive to take back control."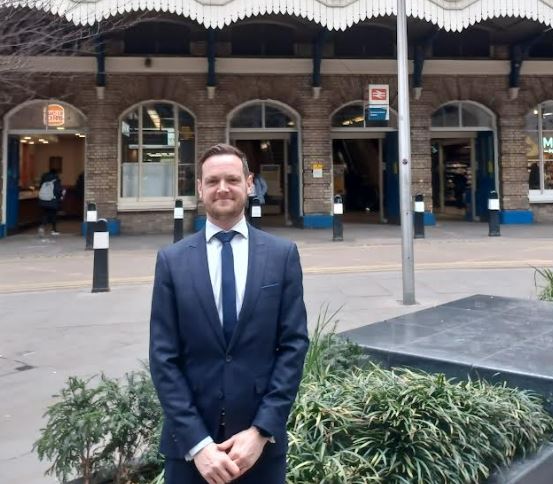 "I'm so pleased to have the opportunity to support this fantastic charity as part of this personal challenge; anything we can do to support Gold Geese and the brilliant work they do in our local communities and help raise awareness for the organisation," he added.  
His training plan began in January with three runs per week on average. As we near the event on Sunday 23 April, Phil's training schedule will peak at around 60 – 70 kilometres per week before tapering in the final weeks in order to be rested for the big day. Throughout the course of his training he'll clock up close to 500 kilometres. 
Gold Geese Founder and Trustee, Katie Southgate (pictured below) said, "We're hugely grateful Phil is taking on the London Marathon for Gold Geese and wish him the best of luck. We receive no government funding and rely on our amazing community to fund our work supporting local families affected by childhood cancer.
"Across the country around 1,900 children are diagnosed with cancer every year, and it causes a huge upheaval for everyone in the family – emotionally, physically and often financially as overnight they become full-time carers. Fundraisers like Phil mean we can be there every step of the way," she added.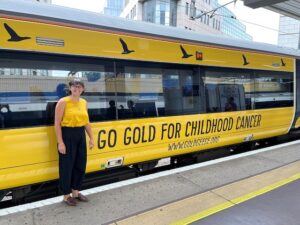 The charity is this year celebrating its five year anniversary, having been set up in 2018 after Katie's own child was diagnosed with cancer. 
If you would like to support Phil's marathon effort, go to Just Giving.
A donation of £20 could provide toys or comfy new pyjamas for a child with cancer staying in hospital

£45 funds an hour's counselling session for a bereaved family

£280 funds a memorial bench for a child who has passed away

£400 funds a big end of treatment celebration for friends and family

£700 covers the cost of a weekend away for a family to offer respite
About Gold Geese: 
As well as offering families support, Gold Geese also raises awareness of childhood cancer signs and symptoms, including delivering training workshops to childcare practitioners and parents. 

Gold Geese receives no Government funding and relies on community donations for its work. 

The charity was founded by Katie Southgate in 2018, following her child's cancer diagnosis. Understanding the impact of a diagnosis, Katie set up the charity to help other local families in the same situation. Her child is now cancer-free. 

Our slogan is We Fly Together, because Geese are a team and no one is left behind. #weflytogether #goldgeese 

Contact us on our website, Facebook or Instagram.