To support customers through the half term break and as celebrations for Her Majesty The Queen's Platinum Jubilee begin, we will be running some additional services this week.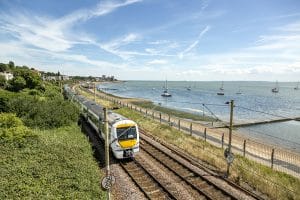 From Monday 30th May to Wednesday 1st June we will be running an additional 2 trains per hour between Fenchurch Street and Shoeburyness (via Laindon) between 09:00-16:00.
This follows the successful operation of additional trains in May half term and the summer holidays last year where we saw an increase in leisure travel between London and Southend to make the most of destinations along the route and our link to the seaside.
On the bank holidays on Thursday 2nd and Friday 3rd June we will be running a Saturday level of service to support travel to and from the Platinum Jubilee events taking place across our network and in central London. All services on these days are planned to be 8-carriages to ensure sufficient capacity is available across all our routes.
Ben Squire, c2c's Head of Planning & Performance, said, "I'm really pleased we've been able to bolster the service for next week as families enjoy bank holiday plans and the nation gears up for a weekend of celebrations for the Platinum Jubilee weekend."
For more information on the amended timetable, go to: https://www.c2c-online.co.uk/our-network/service-alterations/