International Women's Day: Questions with our Women in Rail
This International Women's Day we wanted to pause and reflect on what it's like for women working in the rail industry. In fact only 17% of those working in the rail industry are women. As a company that prides itself in offering equality in career opportunities, this statistic is not representative of where we want to be.
Some of the leading women at c2c, Clare McCaffrey – Commercial Director, Donna Thorpe – HR Director, Lucy Fish – Head of Digital, and Emma Callaghan – Head of IT, were all kind enough to talk about their experience of working in the rail industry, their inspirations, and their advice to those considering joining the industry.
1. What do you love about working in the Rail industry?
Clare: The challenge, both practical and intellectual. No two days are ever the same.
Emma: There is so much to learn. I remember being told on my first day that it would take at least six months to "get up to speed" with things. Nearly five years in and I'm still learning about the industry every day.
Lucy: I like being challenged and this job can be very challenging! No day is the same. At any moment things can change and you've got to be ready to react and get the job done.  
Donna: I love the broad range of roles within the industry, the diversity of people and the fact that we are providing a service to customers.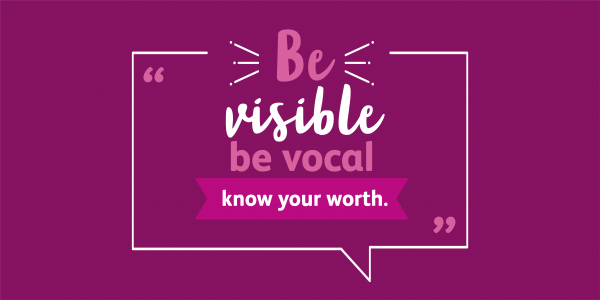 2. It's typically an industry in which women are underrepresented. Why do you think that is?
Lucy: Rail was mainly an engineering based industry. Historically, engineering was a very male dominated sector. But things have changed and are changing still. Engineering is now actively encouraging and recruiting diversity, and rail has become so much more than an engineering industry alone.
Clare: From an engineering or driving point of view, women were previously steered away from, or at least not actively encouraged to pursue those types of careers so the fact that is changing is encouraging, but has led to some under-representation. And the fact that the hours may not have suited the practicalities of some women's lives and commitments elsewhere. Plus, and I generalise massively here, women don't tend to be train obsessive or found taking pictures on platforms, or noting down numbers, so perhaps it is not the first choice when people think about where or in what industry they should work. Not glam enough?
Emma: I guess it just stems from old fashioned education. Trains were always a "boys toy" when I was growing up. This is all changing though with education now pushing everyone, regardless of gender into any role they want which is fabulous.  
Donna: A large portion of our workforce is train drivers, this is predominantly seen as a male role, I think in part because of the shift working and unsociable hours.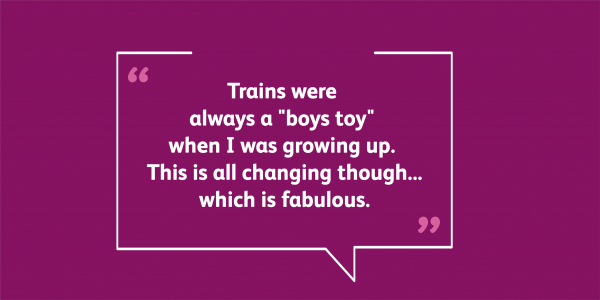 3. The rail industry has started to recognise the importance of a good work/life balance with the introduction of flexi tickets for part-time workers. Is having a good work/life balance harder for women at the top and if it is, what can be done to redress the balance?

Lucy: I personally don't feel it is any harder for women to have a good work/life balance than it is for men. A poor work/life balance can have a serious impact on mental health, which is a national concern right now. All employees have a legal right to request flexible working but ultimately it is down to the employer. I believe people are the biggest asset to an employer – if people aren't happy or motivated, it has a huge impact on the business. So promoting a good work/life balance and supporting flexible working is really important. We have a good flexible working policy here.
Emma: This always feels like a question centred around raising a family and having not had children, I automatically feel like I have an easier ride! However, life throws curveballs at you and having a company and management that understands the need for a good work/life balance is hugely important. c2c supported me with this when I had to care for my father a couple of years ago. I like seeing my male colleagues working from home in order to share childcare needs. 
Donna: I don't think it's harder at the top. I personally have a flexible working arrangement in place and work part time. It's about being organised, flexible and managing your workload.
Clare: Having a good work/ life balance is essential in any industry but particularly in one as demanding as the railways. So the fact it is changing can only be a good thing. Is it harder for women? Possibly? Women, whether they work full or part time, still tend to take on primary carer responsibilities at home, with children or supporting elderly relatives.
What can be done to redress? Live it, and do it, and prove that in the relevant role, flexible working works. That is of course noting that not all roles offer the ability to do flexible working. In terms of work life balance – be ruthless with your leisure time; unless you are on call, don't check your emails 24/7. Do them at the appropriate time, schedule your responses, manage people's expectations of when they will hear back. When on holiday, go on holiday, don't stay half in work, it's not that impressive.
4. What advice would you give to women just starting out in the rail industry?
Clare: Be visible, be vocal, know your worth. Don't mistake people who talk a lot for people who actually know what they are talking about. Don't be impressed by people being articulate. Don't forget to speak in meetings. Show you can be a good colleague and team player. Be noticed for the right reasons, not the wrong ones. Do what you say you are going to do.
Donna: Don't be afraid to speak up to make your voice heard. Culturally the industry has moved a long way, most if not all Train Operating companies have women on their Boards.
Lucy: Concentrate on equality. Treat people like you would want to be treated. We are all equals. 
Emma: Whatever your role, talk to everyone! Especially those in departments that seem completely unrelated to yours. You'll learn so much and you'll soon find yourself being able to answer random questions that your family members and friends will ask you as soon as they find out you work for rail.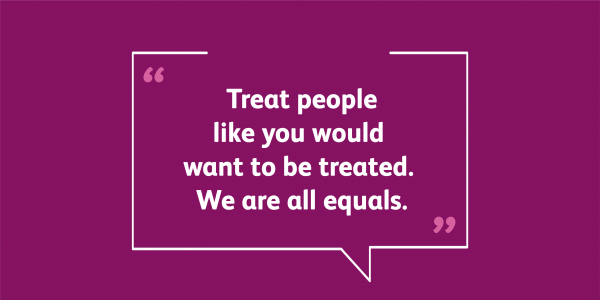 5. What will be the biggest challenge to the generation of women behind you?
Emma: Hopefully having too much choice in their careers. 
Clare: In my view, the feeling that the world is getting more narrow-minded and reactionary. The possibilities open to me when I started out, E.g free education and the chance to own a home one day in London would be way out of my reach if I started now. I think it is harder for the next generation, irrespective of gender. It also seemed a lot more meritocratic back then, but that may have been perception rather than reality? We didn't have social media or a digital footprint haunting us so we had a bit more freedom to have fun. That said, I started work in the middle of a huge downturn so there is no optimal time and there are challenges for every generation.
Donna: The understanding that sometimes you have to start at the bottom to get to the top. 
Lucy: I honestly believe it is mental health. It's a rising challenge for everyone in younger generations, not just women. The pressure to do well and 'live your best life' (I really dislike that phrase), is compounded by tabloid and social media. Luckily, there's a shift in people's attitudes towards what is reality and what or who is fake. Support each other and be kind.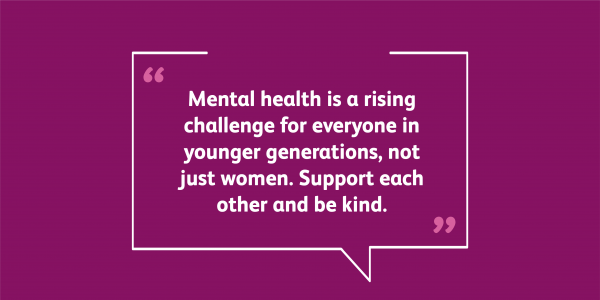 6. Which woman inspires you most and why?
Donna: Emmeline Pankhurst – she helped women win the right to vote.
Clare: Michelle Obama – she is just truly amazing in her own right in terms of what she achieved, as a daughter, as a student, as a lawyer, as a Public official long before she became the wife of the US President. In fact, marrying him [Obama] was the least impressive thing she did in all of her career. That, and her dignity brought a tangible meaning to the role of 'First Lady'. An impossible job that she carried out brilliantly.
Emma: Sandi Toksvig – she has an extraordinary mind and despite being told at a very young age that she is wrong to be gay, wrong to question everything and later in life being turned down by BBC bosses for being a woman, she cracked on, ignoring all the negativity. I recommend her recent book about travelling on the number 12 bus. 
Lucy:  I really admire Cynthia Nixon. She's an activist for healthcare in America, promotes equality and ran for Governor in New York. And, she's top of my mind right now as she narrates the 'Be a lady, they said' video. It has nothing to do with the fact that 'Miranda' is the character I relate to most in Sex and the City, honest.
Here at c2c we welcome people of all genders and backgrounds into our railway family. If you're interested in working for c2c please take a look at our careers page to see the latest roles available.