Widely acknowledged as one of the most cosmopolitan parts of Southend, Leigh On Sea is a cultural hub teeming with quirky shops, art galleries, artisan delis and above all, great restaurants. Choosing from the varied selection of eateries is no mean feat, but here's a handful of the very best, offering the finest local seafood, free-range meat and fresh produce, put together by passionate chefs in beautiful modern settings.
The c2c Smartcard makes visiting these  attractions and venues easier. Skip the queues by purchasing your train tickets online or through the app and receive automatic refunds if the train is delayed. Also a kid's off-peak, return ticket starts at only £2 and you can travel from South Essex to London return from £12.70 with our online advance tickets.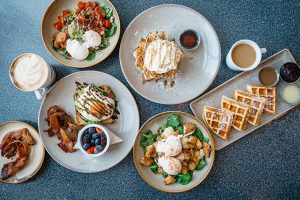 Brunching doesn't get much better than at Stop the World. Visitors dropping in for chocobanana waffles, homemade granola or sourdough bread piled high with Gruyere scrambled eggs and crispy pancetta. If you're watching your weight, it's best to avert your eyes upon entering – the counter groans under the weight of colourful, freshly baked cakes, biscuits and macaroons. Gold Digger brownies or a slice of Pimm's O' Clock loaf go best with a cup of tea, but if you're really celebrating we recommend a rather large slice of Peach Melba Chiffon cake.
Nearest c2c station: Chalkwell (14 min walk from the station)
Address: 113 Broadway, Leigh-on-Sea, Essex, SS9 1PG
Agostinho's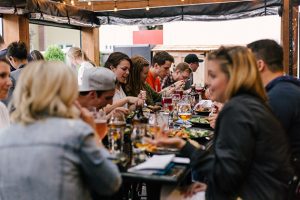 Offering an extensive list of Portuguese wine, port and Madeiras alongside classic European dishes (think Portuguese sun dried salted cod cakes, pan-fried pork escalopes or steamed rope mussels), homely Agostinho's has been serving locals for over 30 years. Under head chef Jorge's watchful eye, dishes remain consistently authentic and hostess (Jorge's wife) Pauline ensures every need is catered to. Be sure to check the chalkboard for highly tempting specials.
Nearest c2c station: Chalkwell (12 min walk from the station)
Address: 157 Leigh Road, Leigh on Sea, Essex, SS9 1JF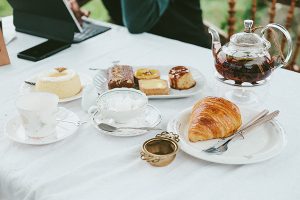 Tucked away behind the seafront pubs of fishing village Old Leigh lies this whimsical tea garden, all plant fronds, terracotta pots and the odd friendly dog padding about, Sara's Tea Garden is much more than a quick lunch spot. The lengthy menu makes use of shellfish sourced just 68 steps away. Choose from doorstop sandwiches, paninis, jacket potatoes and salads, plus a wide range of homemade cakes to go with lashings of tea.
Nearest c2c station: Leigh-on-Sea (9 min walk from the station)
Address: 64 High Street, Leigh-on-Sea, Essex, SS9 2EP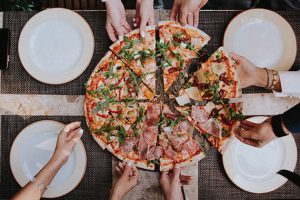 Less than a year old and already lauded as one of the best Italian restaurants in Essex, Cucina enjoys a prime spot on busy Leigh Broadway West. Pizzas are stone-baked on the premises and regional wines are taken very seriously. The Venetian finger food, calamari and lasagna al forno can be held responsible for many return visits – but the owner's keen attention to detail and genuine interest in customer's experience is definitely a big factor.
Nearest c2c station: Leigh-on-Sea (13 min walk from the station)
Address: 63 Broadway West, Leigh, Essex SS9 2BX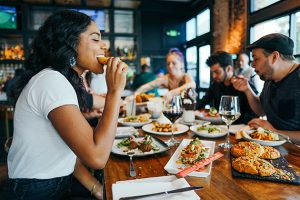 Healthy eating is made effortless at the kooky Squeeze Cafe, whipping up powerful fruit smoothies (Bee Pollen and Milk Thistle come highly recommended) and colourful superfoods. Moroccan sharing plates, towering burgers and classic breakfast dishes draw a young crowd craving cleansing brunches and fruit juices to soothe a hangover, but the crowds flood in through to the evening. A surprisingly long list of craft beers, fruit ciders, wines and spirits is available until 11.30pm, so there's really no need to move on when dinner's finished.
Nearest c2c station: Leigh-on-Sea (13 min walk from the station)
Address: Grove End, Rectory Grove, Leigh on Sea, Essex SS9 2HB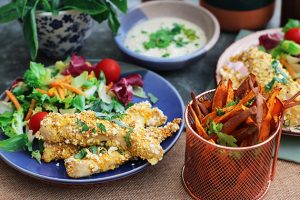 Vegetarian and vegan haven Oaktree Market Bistro offers an array of wonderful products to take home and enjoy, alongside an extensive menu of meat-free delights. Hearty and filling dishes win most die-hard carnivores' seal of approval, a good choice of sharing plates and salads, soups and cous cous sitting alongside hearty grilled cheeses in warm ciabatta and several pasta dishes. Themed evenings make the most of regional flavours, with Thai, Greek and Japanese proving very popular.
Nearest c2c station: Chalkwell (10 min walk from the station)
Address: The Oak Tree Market, Vegetarian Bistro, 75 Leigh Road, Leigh on Sea, Essex, SS9 1JN