Meet one of our female train shunters
Think shunting is a man's job? Think again. We meet one of our female shunters (shunters are essentially a type of driver that moves trains in and out of depots and couples carriages together) and talk to her about how she made her start in rail and what she loves about her job.
Meet Melissa Quick, Shunter, East Ham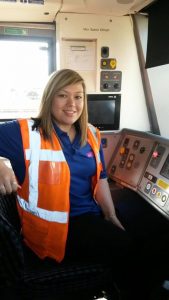 "2021 will mark seven years since I joined the railway. I started on the platforms as dispatch and it was a very male orientated role at the time and I was the only full-time female train dispatcher.
When I joined the depot 16 months later, there were no female shunters! There's now six of us girls at East Ham so the railway is definitely changing and becoming more diverse. I love my job and I'm now a working mum of two and with our shift patterns I definitely get to spend more time with my family than maybe a 9-5er would. The more women that see and hear other women doing what was traditionally seen as a 'man's job', the more that can be inspired to join and show women from all different backgrounds can do it too."
Feeling inspired? Join us!
If you're inspired by Melissa's story, keep an eye out on our c2c careers page for upcoming vacancies. We think the railway is a fantastic place to work and welcome applications from anyone who believes they can make a difference by joining us.