Matilda The Musical Competition
This competition has now closed.
Enter now to win a family ticket for Matilda The Musical!
Just fill out the form below and you could be in with a chance to win a family ticket for Matilda The Musical, enter before the 1st of December for a chance of winning.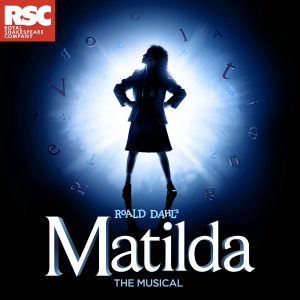 'BELIEVE THE HYPE'
New York Post
'EASILY THE STANDOUT MUSICAL OF THE DECADE'
Sunday Times
Matilda The Musical is the multi-award winning musical from the Royal Shakespeare Company, inspired by the beloved book by the incomparable Roald Dahl.
With script by Dennis Kelly and original songs by Tim Minchin, Matilda The Musical is the story of an extraordinary little girl who, armed with a vivid imagination and a sharp mind, dares to take a stand and change her own destiny.
Winner of 99 international awards, including 24 for Best Musical, Matilda is now in its tenth year in London, where it once again continues to delight audiences of all ages.
'Writer Dennis Kelly and composer and lyricist Tim Minchin go to the top of the class with this anarchically joyous, gleefully nasty and ingenious musical adaptation of Roald Dahl's story'
Guardian.
Competition Terms and conditions
Entrants must be aged 18 and over.
All competition entrants must be permanent residents in the UK.
This competition is NOT open to employees of Trenitalia c2c Limited, their families or anyone else associated with this competition. The Marketing Director's decision as to the eligibility of non. Trenitalia c2c Limited parties will be final.
You may be asked to provide proof of your eligibility at any stage during this competition.
Entry process
The competition will be open to entrants from 03/11/2021 to 01/12/2021.
Only one entry per person is permitted. Entries on behalf of another person and joint entries will not be accepted.
Offensive, incomplete, incomprehensible or incorrectly completed entries will not be counted.
Trenitalia c2c Limited do not accept responsibility for entries that are lost or delayed, or which are not received for any reason.
All entries will be given careful consideration and must be written in English.
Winners' selection
c2c will select the winner from the entries at random.
The winning candidate will be notified via email. Your personal details will not be used for purposes other than contacting you regarding the competition and sharing your post on social media.
We reserve the right to request proof of award winners' identity in the form of a passport or driving licence and proof of address in the form of a utility bill dated within the previous 12 months. If the award winner is unable to supply proof of identity in an acceptable format, we may withdraw the prize and select another winner.
By entering the competition, you grant to Trenitalia c2c Limited, its agents, and others working under its authority, full and free use of any images of you taken during the competition process. You agree that we may publish and share your name, age, location, your submitted entry, details of your prize and information related to your entry. You will retain ownership of copyright in your entry but you give Trenitalia c2c Limited (and any third party authorised by Trenitalia c2c Limited) your irrevocable permission to use, reproduce, publish, display, transmit, copy, amend, store and sub-licence your entry worldwide for such promotional purposes and for the purposes of the competition.
Entrants agree to take part in promotional activity if entry is a winner.
Prize & Delivery
If you have won, we will contact you via email.
We have 1 family ticket to Matilda The Musical.
A family ticket includes four tickets. Tickets are available for all performances excluding Saturday matinees.
The prize is not transferable and non-exchangeable.
Rights
Trenitalia c2c Limited reserves the right to make changes to the rules of the competition at any given time. In the event that we do amend the rules, we will publish them and it is the sole duty of any entrant to keep themselves up to date with any changes.
Trenitalia c2c Limited reserves the right to end this promotion at any time, and without notice.
If there is any disagreement over the rules, conduct or decision made by Trenitalia c2c Limited, we want to make it clear that our decision is final. We will not enter any discussion with entrants who disagree with the rules or the winner chosen by Trenitalia c2c Limited.
By entering this competition, you agree that you will be legally bound by these terms and conditions. These Terms & Conditions shall be construed in accordance with and governed by the laws of England and Wales.