The Coca-Cola London Eye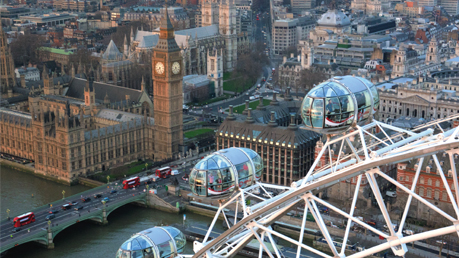 *Price is subject to change
Online advanced bookings now available!
The Coca-Cola London Eye has been London's number one visitor experience for over a decade. Step into a capsule and feel the exhilaration as you rise up over the River Thames and come face to face with the Houses of Parliament and Big Ben, before soaring above them, up to 135 metres on the world's tallest cantilevered observation wheel.

A trip on the Coca-Cola London Eye undoubtedly makes up part of the ultimate day out in the city and is ideally located on the beautiful Southbank amongst brilliant bars and restaurants.

Included with every ticket is the Coca-Cola London Eye 4D Cinema Experience. This heart-warming mini-movie is a must-see for any Londoner and comes with a few surprises and a great soundtrack featuring Coldplay and Goldfrapp. It creates the perfect build up to your take-off.

Please note, this 2FOR1 online offer is not valid on the following dates:
9-24 January 2017
14 February 2017
1-17 April 2017
 


Admission: £24.95
Opening times:

OFFER TIMES:

Daily from 10.00

Opening times may vary. Please check website for details.


Phone number: 0333 321 2001 Get voucher

 
London Eye 2FOR1 
Want the best seat to view the city? The London Eye is where you need to be! Towering above London, you are guaranteed the best view of the capital. It stands at a jaw dropping 135 meters tall, making it one of the tallest observations wheel in the world.  But wait for the best bit… we have 2 for 1 London Eye deals, so you can enjoy the attraction for less!
What to expect
You'll get to experience a 360° scope, stretching up to 25km on a clear day. Big ben, the Shard, St Paul's cathedral are a few of the landmarks on show. But, the list is endless! Each rotation takes 30 mins so you have plenty of time to admire the surroundings and take as many snaps as your heart desires. There's also interactive tablets so you can discover the history behind the iconic wheel.
With each capsule being able to carry up to 25 people, invite a group of your mates along or take the whole family out. If you've got kids under 5, they'll get free entry, making your trip even cheaper. For a more romantic and intimate setting, take your loved for a spin at dusk to capture a beautiful sunset.
Where is the London Eye?
The London Eye is centrally located, so be sure to check out our other 2 for 1 deals to make the most of your day. The London Dungeon for example is a stone throw away and packed full with thrills.
Fenchurch Street is the nearest c2c station to the London Eye, you'll only be one stop away on the underground. If you book in advance with c2c you can receive 40% off your train tickets. But remember, your voucher is only valid for the date specified on your train ticket. However, if you have a weekly c2c travel ticket you are able to visit an attraction on any dates that the ticket is valid for. The London Eye is open year round but be sure to check the opening times on site as they do vary.
How to get your London Eye 2FOR1 voucher
There's just two simple steps in receiving your 2 for 1 London Eye offer. All you need to do is download your voucher by clicking 'get voucher' and book a c2c train to London. When you present your valid train ticket along with the coupon, you will be able to enjoy the London Eye for less!
It must be the UK's most popular paid for visitor attraction in London for a reason right? Be it winter or summer, the London Eye is a great attraction to visit year round. Don't miss out and book your c2c train and download you voucher today.
If you're looking for more London 2FOR1 vouchers, head back to our main offer page.